Let's Talk Mental Health: The Gurgaon Literature Festival Focuses on Mental Health This Year
What: GLF 2019
When: November 16-17, 2019
Where: DLF CyberHub, Gurugram
1. What led to the festival?
I was searching for a theme and I wanted it to be something each human being needs. I was on Twitter when I announced my joining as a festival director for GLF. It so happened that Dr Samir Parikh (had) suggested we have some mental health sessions. As that thought simmered in my mind, I thought why not make the whole festival an ode to mental health. As a society, as a citizen of our lovely country, I do hope GLF can help destigmatise mental health issues. The festival dates are 16th and 17th November and the venue is DLF CyberHub.
We also thought to culminate the festival (with a celebration)…We have an Artist's Ball for our guests and speakers. I believe in the principle that nothing is permanent, there is no such thing as normal and as long as we have this life let us bask in knowledge.
2. Why do you think it's important to talk about mental health and illness in India?
India is one of the most depressed countries in the world. We have so many issues as a developing nation. We are yet to become an open-minded society when it comes to mental health issues. Whether it is teenagers or women or men, each and everyone of us face some challenge or the other once in our lifetime of mental illness.
To eradicate some of the stigma I made Gurgaon Literature Festival's theme
mental health
. It is easy to go behind closed doors and seek help from a mental health professional, but it's not easy sometimes to accept our illnesses in society. That same society which will ask us 'what's wrong with you? Why are you so angry, morose, lonesome?'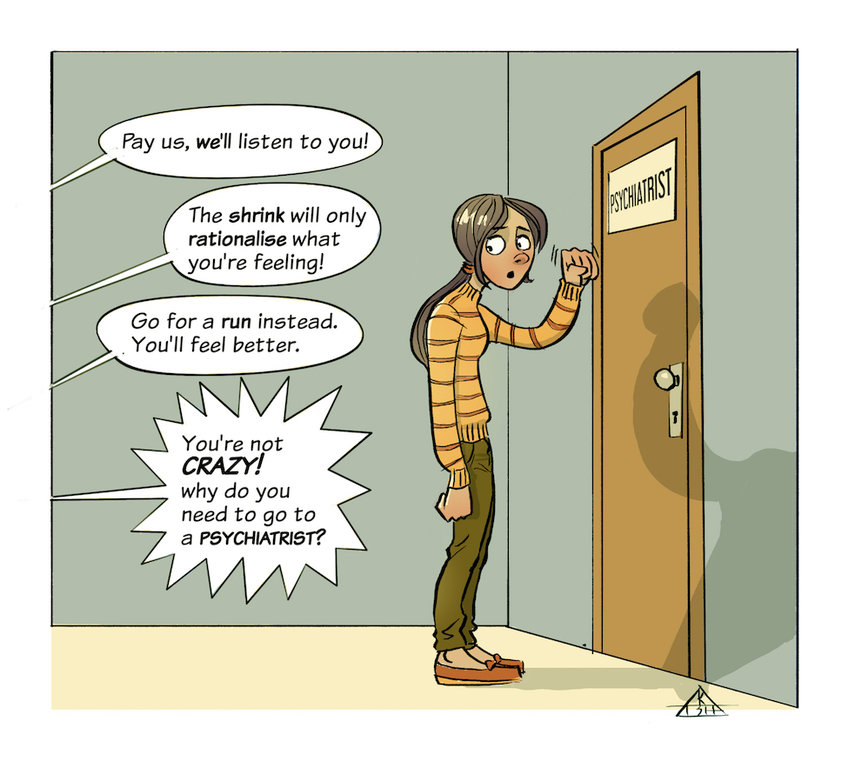 To answer what is really going on, one must first accept that yes there is something wrong. Like any other organ in the body the brain can get Ill too. We must open the dialogue for parents for spouses and for patients. That's why most of our panel debates our on mental health issues.
3. What are 3 things you want everyone to know about Mental Illness…and do you have any stories you'd like to share? Since your book has come out, and especially since you have been so open in sharing your story, have others also reached out to you?
The three things I want everyone to know about mental illness are:
1. It's ok to not be ok. We can fall prey to demons of the mind, but with care and maybe medication we can come out of it.
2. It is ok to see a psychiatrist and get help. People often say, "No we dont want to see a psychiatrist we will be stuck forever, we will get addicted to the medication." However like my father says when my medication tends to make me gain weight: 'It is better to be overweight than to be psychotic'.
3. Since
my book
came out a lot of people have reached out to me and opened up about their sufferings. I also give free therapy. I've come across many people going through the same things I went through. I give them objective information and ask them to see a therapist.
Disclaimer: Views expressed are personal. Material on The Health Collective cannot substitute for expert advice from a trained professional.
Note: If you want to share an Event Listing around Mental Health, you can do so here on this form
Feature Image from rawpixel.com