Dial iCall for Help: How the TISS-Housed Helpline Delivers
iCALL is a psycho-social helpline run by the Tata Institute of Social Sciences (TISS), that aims to offer counselling via phone, mail and chat to those in emotional and psychological distress. The service which runs from 8 am to 10 PM from Monday to Saturday, is primarily funded by the Mariwala Health Initiative, since 2015.1
The helpline has shared services to 80,000 clients 2 (via call/ email etc) till date and cites a follow up rate of 64% and — crucially — offers counselling services for free, in multiple languages:  English, Hindi, Marathi, Tamil, Kannada, Gujarati, Bengali and Konkani. Stats apart, in a country that often doesn't seem to have enough affordable mental healthcare facilities or even resources to refer those in need to, iCall has long been a sort of silver lining.
The Health Collective's Sukanya Sharma interviews iCall Programme Coordinator Tanuja Babre for more information and insight. Babre has a Master's degree in counselling psychology from Tata Institute of Social Sciences and has worked in the area of mental health and psychosocial well-being for over 6 years. Apart from offering services in a face to face setting, she has offered services for over 2,000 sessions via phone, email and chat.
This interview has been lightly edited for clarity.
1. What would you tell people who are feeling suicidal?
I think one of the crucial things to talk about in any kind of crisis prevention work is that there should be a message of hope that you should instill when talking to a user-survivor. When it comes to the issue of suicide, a lot of time people engage in these thoughts because they feel hopeless and worthless and there is no other way to help them come out of this particular situation. Therefore, any conversation that you are having, it is important that you are not being judgemental and not judging their choice, and you're also not taking a moralistic stance saying that 'If you do this God will punish you', or 'If you do this, what will happen to your family?', 'Think about your children', and so on.
It is important to create a safe space. It may so happen that you do not understand the reasons that they choose to do what they are doing but at the same time you are there to support them through this. It is also important to give a message of hope and communicate that you may not have the answers for things right now, but together (we) can figure out what the answers could be and (that) we will navigate through this. So we need to be able to communicate that there is a way out of this, but also make sure that we do not make any false promises by saying, 'I'm going to resolve this for you'. Assuring (someone) that you and I will figure out how to get out of this situation, is the most important thing.
2. Do you have a message for family, friends, institutes on how to be sensitive?
One of the important things to remember is that there are a lot of myths around suicide and self-harm. One of the most common myths is that if you ask the person about this then you instill an idea about this in their mind. This is not true. If you see someone showing signs of being suicidal then it is important that you talk to them whether they are thinking about ending their life, whether they are feeling vulnerable. You doing that is not going to put the idea in the person's head.
We have all had experiences of suicide around us. We have also unfortunately lost loved ones through it, or friends or colleagues. Another point to note is that feeling suicidal is a sign of depression, and it is not a way to get attention or manipulate someone.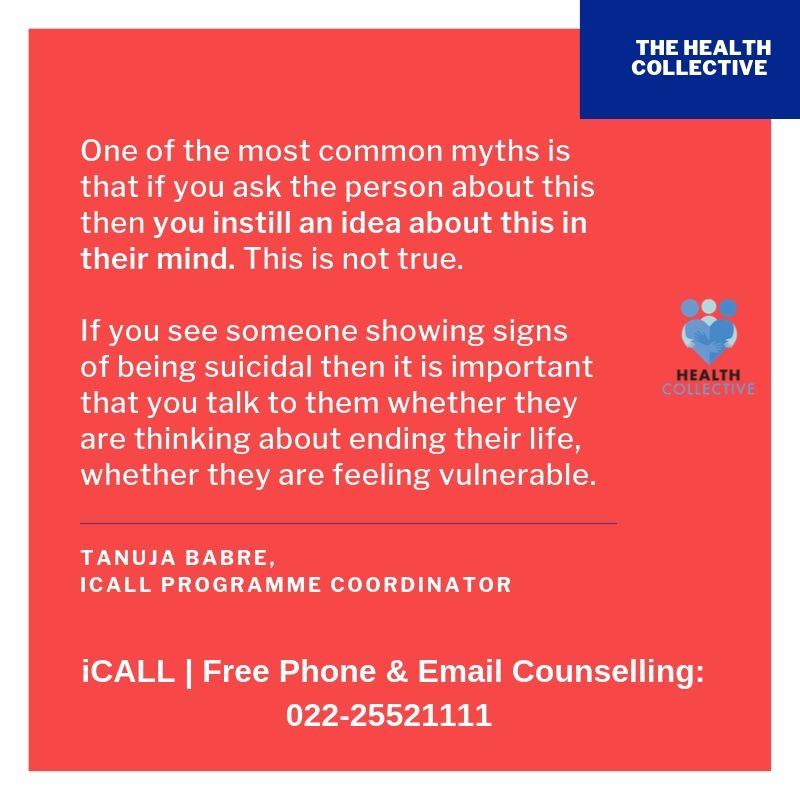 If this is happening in an organisation, most commonly I've heard that the organisation sends the person on leave, saying that when they feel better they should come back — that is not the most healthy thing to do at that point of time. You need to ensure that you connect them to a mental health professional, a support system, someone from their family system or any trusted adult who they are close to are informed about it so they can take care of them.
The new Mental Healthcare Act decriminalises suicide so I think there is a lot of education also that has to be done of the stakeholders around this particular change because there is also a lot of fear of liability around this.
3. Is there a spike in the number of calls around any particular time of the year? 
Over the years that iCall has been functioning, we have noticed that during the exam season when the Board results are about to come out, is when we get a huge chunk of calls from students. Some of the students are worried about the outcome of the results, some call after the results are out and feel depressed. The concerns may be a little different for those who call after the results; they are more anxiety-related, saying: "My parents are forcing me to take a certain career", "Which institution to choose?", "I have no plan B"… 
4. You said you get calls from those who've moved outside of the country as well, are these students, working professionals? What is the nature of the conversation? 
The calls we get are mostly from working professionals, or people who have settled abroad. There are specific issues, but the majority of the time they are related to relationship issues… sometimes they are also related to suicide and distress.
We also get a lot of emails from students who are settled abroad.
A lot of communication comes from older adults, say above the age of 28. It is both males and females. And the primary reason that they choose to reach out to us is that they tried to seek professional mental health help abroad, but these professionals did not seem to get the complexity of the issue; something as simple as 'My family is pressurising me to get married'. A therapist abroad may not understand this issue.
5. How does a call flow?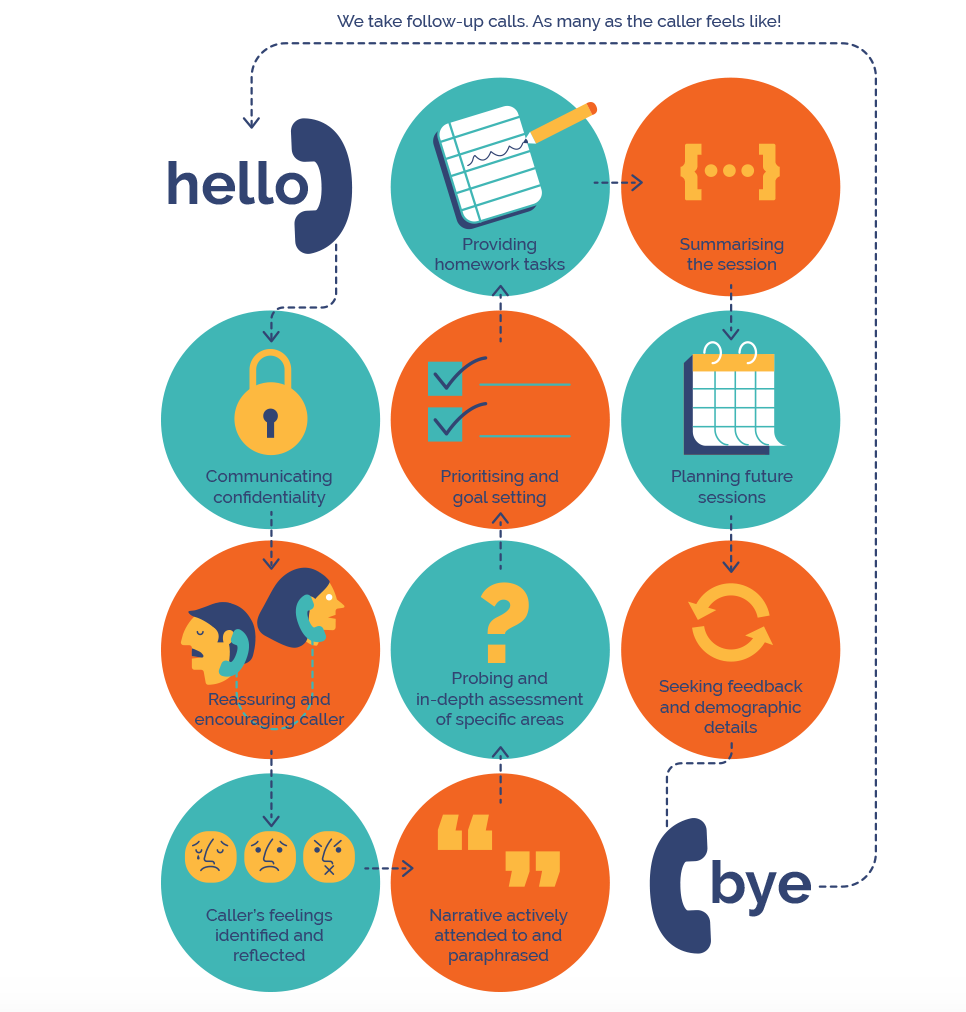 6. How does the call end?
This is varied in different cases. Depending on the issue the client has come to the counsellor, the counsellor will provide a short term intervention, sometimes they refer to an organisation that they may be helpful, or some reading material and they will set up an agenda for the next call and end up. Sometimes counsellors also give the clients homework to do; coping cards, lists of things to engage in, and the client then has to come with that homework for the next session.
7. Young suicide rates are a growing concern — do you get many calls from the younger demographic? What are their triggers? What are some of their concerns?
Almost 40% of the people who get in touch with are the age group of 11-30 years. The top most concerns that people are reaching out to us with are relationship concerns, there are sexuality related issues that people are reaching out to us with, there's academic and career related, mental health related concerns, substance use. These are some of the common concerns that young people are accessing our services with.
The issue related to suicide is often attched to academics. We also used to run a special service for students who are situated in the city of Kota. This is where the kids are going to train for their competitive exams for engineering and medical and we get a lot of calls for clients who are feeling suicidal because of academic pressure, through violence or abuse happening through the coaching classes.
But there is also a lot of issues related to relationships; abuse, violence, breakup.
Some young people reach out with concerns of getting married, or getting a divorce, there's violence in relationship. There are also clients who deal with difficulties with family members, being a care-giver to them, and feeling the care-giver fatigue.
8. 1% of the calls come in from the transgender community, could you elaborate a little on what kind of concerns they call you with? what are some triggers?
Some of them may be related to transition. That also at different level of transition. Some say that they wish to do it, "I identify like that but I don't know how to go about it". "Can you tell me what this is?" Some people call in to say that they feel different and that they need help to get rid of these feelings.
Some call in with their family members understanding how to go through the process of transition and how to sensitise the families. Sometimes families reach out to say that they are okay with them living two lives saying they can do whatever in their private time. There is a struggle because some of them are married and they have partners and kids, and they are concerned how they will react during this transition period.
There are also those who come with mental health concerns like Depression. Some are stressed because of the discrimination they might be facing at workplace, or in society and how they can get help around that. Some clients come with relationships issues with their partners; break-ups, both the partners transitioning, only one partner transitioning, separation, coming out to family members…
9. What kind of help do counsellors get? 
Certainly our work is taxing and is complex. So there are certain mechanisms that we have evolved in the organisation over the years , and it's a constantly evolving process to be honest.
One of the few mechanisms in place is that every employee of iCall, whether a counsellor or admin staff or anyone, they are given a therapy allowance on an annual basis whereby they can use the money to seek therapy for themselves. It can either be therapy or we have a list of activities that they can use that they think will help their mental health.
We have supervision available for all counsellors. Now supervision we have is at various levels; one is that they have access to peer supervision where their senior colleagues are available to them, there is also one-to-one supervision where a person is appointed to help the person through any issues.
In iCall office we even keep a lot of arts and crafts materials, there is food for the counsellors wherein they can put in their request for it. These are just some effort to make the environment more friendly for them.
As an organisation we like to believe that we are sensitive to people's needs and each of us are mindful of each other's mental health. The team will encourage frequent timeouts to make everyone feel less burdened… Each counsellor answers anywhere between 7-12 calls daily, and the duration of the call on an average is around 23 minutes.
Disclaimer: Views expressed are personal. Material on The Health Collective cannot substitute for expert advice from a trained professional
Sources