Pride and Love: How to Navigate Intimacy and Emotional Health
This article is part of our FREEDOM SERIES; in the run-up to Valentine's Day and as we aim to upend the mass-market cookie cutter romance-celebrations, we're taking a closer look at Relationships. Whether you're out and proud or trying to navigate your own way, we're here to tell you you're #NotAlone and that we're committed to maintaining a safe space for you to share your stories, if you choose to. Some tips and insight from relationship experts can't hurt!
 By Sukanya Sharma
Vivek D'Souza, a 23 year old queer man currently pursuing a fellowship in Bengaluru tells The Health Collective, "I've been using Grindr and Tinder since 2013. I haven't been consistent on them, but I've met quite a few people through these apps."
"Grindr has mostly been a hook-up app for me," he says, adding the unmistakable Indian context. "Some people are very straightforward about the kind of men they are looking to hook up with — 'tall', 'fair', 'good-looking'."
He's also seen a difference between Indian cities on this front. "I've faced some discomfort finding anyone in Mumbai, but in Bangalore (Bengaluru) the people are more accepting of someone like me (who does not conform to the category of 'fair'). It's become much easier to hook up because of apps like these and communicate what you want (to) the person."
Sometimes it's confusing though — how best to reject societal categories and navigate the increasingly complicated online-offline world, while trying to make a connection that lasts? Perhaps the most important thing is to identify what it is we're looking for. Is it a hook-up, is it casual? Is it something more? Is it going to be all about love and other messy feelings, maybe with a side order of companionship and acceptance?
The Health Collective reached out to Karan Solanki, a 21 year old transman, born and brought up in Mumbai, who tells us, "Love is the seed of relationships, and intimacy on the other hand is what makes it grow. Intimacy is a small part for nurturing the relationship." Talking about gender fluidity and relationship dynamics, Solanki says that while responsibilities may differ from couple to couple, the core i.e love, is what remains constant for any relationship.
And that may be where offline, IRL interactions trump all else.
D'Souza says, "I am the kind of person who will not look for a stable relationship online.  I would rather have a conversation offline. In fact, Tinder has been more effective where I could explore 'conversations', and not just look for quick hook-ups.  I've met people just to hang out with, go for a coffee with, and even be their city tour guide. It has helped me find companions."
Now (especially after a certain age in India), when we talk about relationships, we often think of companionship. Partners we can love, be friends with, be intimate with, emotionally secure with; partners who understand us, don't judge us, partners we can be sexually as liberated as we want to be with. Partners we can build a life with. But is that all a relationship is about? Isn't that a heteronormative way to look at things?
In her thesis, HIJRA LIVES: NEGOTIATING SOCIAL EXCLUSION AND IDENTITIES Mrinalini Ray, a social development professional working with NR Management Consultants says, "The dominant understanding of hijra relationships is seen as a transgression from heteronormative relationships, however from my interaction with them, it appears that it is based on similar heteronormative notions of love. To hijras, conformity to the idea of heteronormative relationships may not seem apparent, but from their narratives, one can clearly see the desire to replicate similar patterns and similar notions of love and relationships.
…Hijras explained love to be an unconditional form of affection and support that they were willing to sacrifice anything for. Love to them, meant everyday companionship that offered them respite from their 'lonely' lives. It also gave them some form of assurance that they would not be left to die alone. They expressed an intense desire not just to 'be loved' but also to be able to 'give love'…"
Ray, who worked with Hijra and Transgender communities in Delhi for her thesis, also cautions, "We often take one story and assume it's the story of hundreds others. We forget that the person, regardless of whichever community, is still an individual. And we need to be careful about how we portray these voices."
In fact, every interviewee reiterated that while trying to voice certain insights, opinions and feelings, these stories really are individual and should not be taken as a representation of everyone who identifies as trans- or LGBTQ+. (In just the same way that we don't presume cis-/hetero stories are representative of all who identify that way.)
Having said that, a relationship is a relationship is a relationship, it sounds like.
"Everyone comes with the same relationship problems," says Ajanta De, a counsellor and co-founder of Innersight Counselling & Training Centre in Bengaluru.
"We all have our insecurities, and we all are looking for someone who accepts us for who we are. Jealousy, possessiveness, insecurity — be it a heterosexual couple, gay, lesbian or anyone else — we will all go through the same emotions," she tells The Health Collective.
But are we all looking for the same things in relationships? Surely not.
Richa Vashista, a Mental Health Professional from Mumbai, working for the Health and Human Rights of LGBTQ individuals says, "The dynamics of people in relationships who identify as LBGTQ are very different. Not all are out as LGBTQ and that affects dating. For example, a closeted partner can feel intimidated by an out and proud partner."
She adds, "Similarly, a client once told me, when two men are in a relationship, you are looking at two male egos." Though that is just one person's perspective, it may be an insight.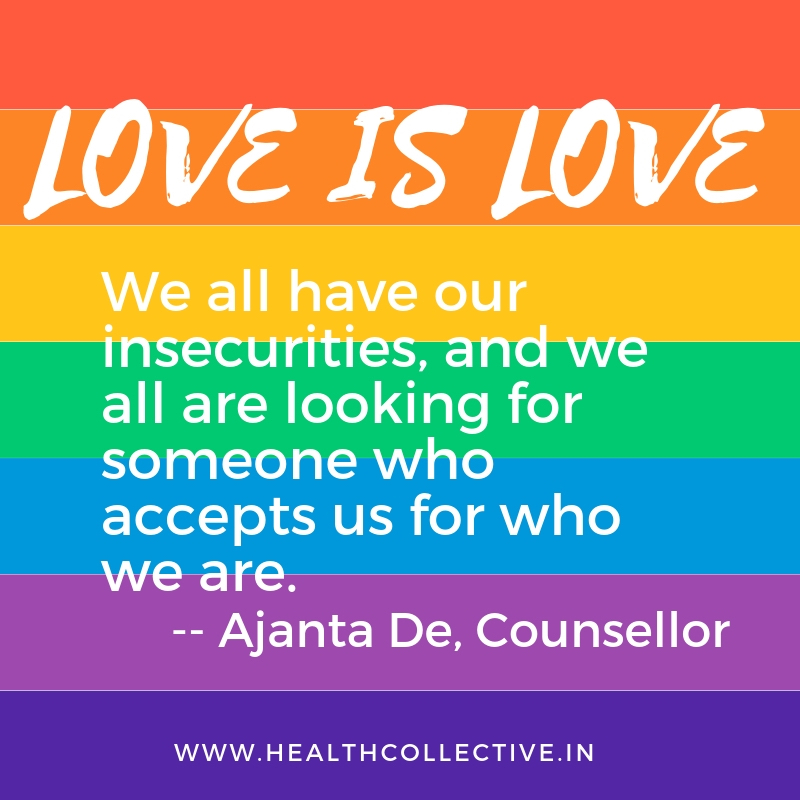 Another insight is when it comes to the fluidity of gender roles in a relationship; there is that element of choice which is much more 21st century than traditional societally-defined normative roles. "The roles in the relationship arise from each individual's interest, or lack of interest in something. If one person likes to cook, then they take up that responsibility, and if one of them enjoys doing the paperwork, they would take up that responsibility. There's a choice, and these are not defined by societal norms", says De.
Being able to choose, feeling safe about expressing ourselves, being able to communicate without fear of judgement is so crucial. And that might be what is universal — the need to connect and communicate in a safe, non-judgmental space.
De tells The Health Collective, "Like any relationship the common stressors would be communication issues, speaking up, owning up to one's needs, lack of compassion/consideration for other person, power hierarchy — it impacts the dynamic of the relationship."
The fact is that while we're all chasing the happily ever afters, there are also myriad ways to get hurt, to face emotional abuse, trauma, even gaslighting. We need to be be able to seek help, stay safe and protect ourselves — none of which can happen if we aren't able to speak about these issues openly.
D'Souza tells us about his last long-distance relationship that did not end so well. "He made me believe that I had bipolar because of my apparent mood swings. I later also found out that he consistently cheated on me. We decided to go through therapy, and only after some time did I realise that he wasn't even going for his sessions.  Thankfully, I've reached a place where I can talk about this experience, but I know there are many out there who cannot find safe spaces to open and have a conversation about what's going on."
D'Souza is active in LGBTQ+ rights movement in Mumbai and across the region. He's an advocacy coordinator of The QKnit, an online LGBTQIA+ collaborative, and voices a concern about the vulnerability of the community, including when it comes to suicide.
If you or anyone you know is feeling lost, desperate or suicidal, please reach out for help: SUICIDE HELPLINES

"I'm not saying that this is because of relationships going bad, but we have to realise that people from the community do not feel safe talking about their relationship, their sexuality, or anything that bothers them. Finding support is so difficult for some of us. I've been privileged to have good friends, and a safe space to voice my troubles…That's how I got over my depression and anxiety."
Article 377 being read down last year was a watershed moment in India's history. But there's still a long way to go in terms of building safe spaces and tackling societal discrimination.
Vashista tells The Health Collective, the beauty is that we can see openly, that "…there are many men dating men, women dating women, and just people dating or living together. People now have the courage to express being with a partner who might not be of the opposite sex, and to be able to say that out loud can be very empowering."
Here's to building from that, collectively.
— With Inputs from Vandita Morarka
Views Expressed are Personal
Disclaimer: Material on The Health Collective cannot substitute for expert advice from a trained professional
Feature Image: By Steve Johnson on Unsplash