Online Dating and Your Teens: Make it About Safety First
By Pragya Lodha
This column is brought to you in association with One Future Collective x Health Collective

Social media and smartphone technology have changed the way teens are dating, especially since the last decade. The advent of digital technology, especially smart devices, has modified all our interactions: how we meet people and establish relationships with them. This rapidly evolving technology plays a critical role in our relationships, romantic and otherwise. Young people do not have to leave their rooms to hang out, they get a chance to connect to people across geographical limitations and the chances to flirt with a high school crush is no longer limited to maths class.
And then, enter a pandemic year like no other generation has seen, and there's no doubt that studies will eventually reveal some impact. So what are some things teens should know up front?
Fifteen adolescents (whose anonymity we are maintaining) interacted with One Future Collective to share their experiences. When asked what  online dating means to them, replies included that it was the 'trending' way (to date, 'a convenient platform' to meet new people, a 'safe haven' for relationships during the pandemic and possibly the easiest and best way to engage with people through social media platforms. They feel that online platforms don't just help them connect with their loved ones far away but also gives them a chance to interact and engage with people across geographical boundaries and cultures. 
Teens who spoke to OFC also shared some unsaid rules to online dating which include: Being honest and transparent, being authentic and being willing to reveal oneself, not being creepy, preferably not insisting on asking for photos and definitely decent communication and not ghosting on them.
Interestingly, some of them also found the idea of online dating alien and couldn't get themselves to come around it.
Adolescence is a sensitive period of transition, that of physical, social and emotional growth, including peer relationships – especially romantic ones. Online communication is not the best suitable for social relationships due to the fragility of online interpersonal ties that are easily formed as well as abandoned. And yet, what's the alternative?
ASK THE EXPERTS: HOW TO PARENT TEENS
This generation — catchily nicknamed the iGeneration — is more conducive and open to flirting, dating and breaking up online, given how deeply enmeshed technology and digital media is in all aspects of life. If a teen sees someone interesting at school, they don't have to wait till the next day or that day when they can gather the courage to say hi. Meeting in person or in real life is almost non-existent with the quick access to social media.  
ALSO READ:
With the pandemic and various states of lockdown kicking in, it is a tough time to be in love. While teenagers are known to be hard-wired to rebel, the pandemic has been a mix of breaking and following the government guidelines and parental supervision. Finkel and colleagues (2012) studied online dating and their findings indicated that dating online was indeed different from "traditional" dating in a number of ways. Research dating back to 2015 delineated several advantages such as, asynchronous communication, lack of non-verbal cues allowing better control of one's self-presentation, access to multiple choices, online tests helping to narrow down choices to find a near-good match and communication with ease, make the online environment appealing.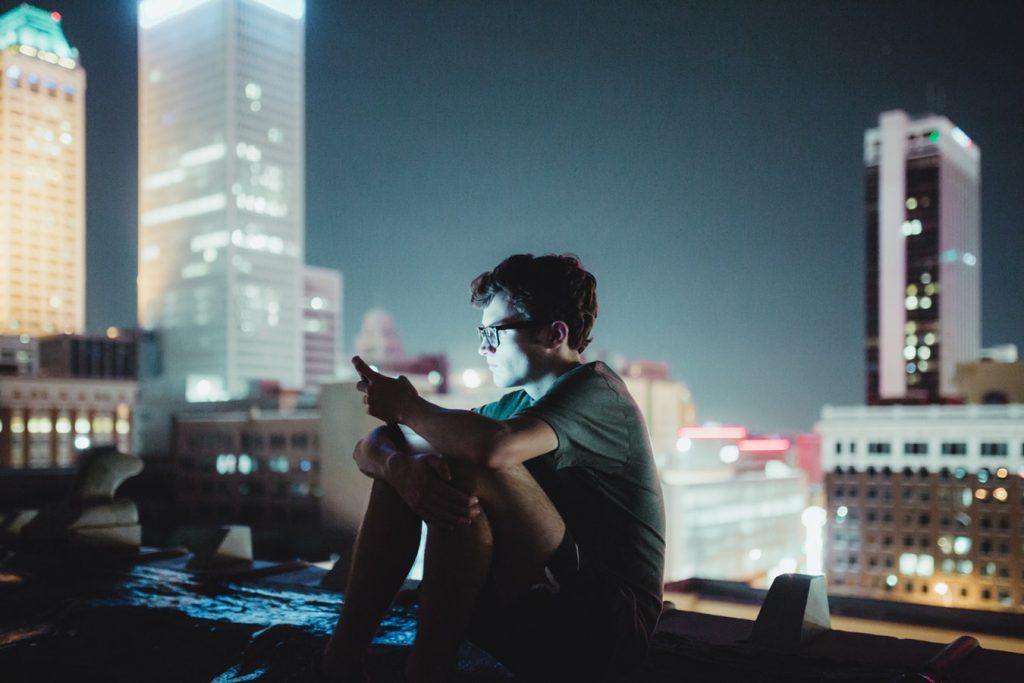 Knowing that digital technology is ever-evolving, influencing dating platforms and applications, it is critical to question whether young people are equipped to deal with online dating, safely. Though our younger counterparts are more tech-savvy than any of us, dating online does not stop with application use. Apart from the thrill and comfort that come from dating online, it is quintessential to ensure that they establish safety first, (even whilst blushing pink on screens). Some youngsters who interacted with us also told us that to address the red flags, they usually would talk to their peers or sometimes even Google safety measures. However, not everyone proactively thought about safety or these red flags. A special note for children and young people with special educational needs and disabilities and those that are vulnerable, who may be more trusting and socially naive, therefore more at risk to understand the dangers when forming online relationships.
The two most critical aspects of dating online are tech-safety along with tech-savviness. Helping teens build resilience to manoeuvre their relationships online is critical. Here are some things to take care of and suggest your teenagers keep in mind, to encourage healthy relationship-building in the online world:
Maintaining and securing your identity on social media and internet based platforms is the stepping stone. Teach your kids what to do and what not to do online. For example, keep full names, addresses, phone numbers, birthdates and other personal information private. Keeping an open communication about dating between parents and teenagers is the safest way to troubleshoot here, so you can apply your parental filters too.  
2. Maintaining privacy and learning about privacy settings on social media is equally important. Here's a guide to get an idea of some ways to maintain privacy settings on social media and internet-based platforms. In addition, one can also send other people's profile photos through 'Google reverse image' to check the authenticity of the profile.
3. Practise caution while video chatting before getting involved more intimately. 
4. Make your teenagers aware of online grooming (aka child grooming) before they head on towards online dating. Incidents of child grooming have increased, increasingly taking place online, through public chat rooms and social media. These problems are ever-increasing in India as well, where children as young as 11 and 12 years old are also victim to child grooming incidences. Grooming is when someone builds an online relationship with a young person and tricks them or pressurises them into doing something sexual. Children must be taught about this as part of online dating and made aware of signs of grooming.  They need to know they can reach out to a trusted adult with any red flags.
5. Do background checks! Doing a background check and knowing the person well enough before meeting them in person are key steps to prevent catfishing and unpleasant experiences while protecting yourself. For example, verify their emails,  make sure of how they look in reality versus their attractive display pictures, and make yourself aware of online scams and frauds. Take your time to know the person.
6. Be aware of the pitfalls of sexting. Sexting can be a part of teenage dating as there is impulsiveness and a willingness to push boundaries. Teenagers may feel the urge to exchange nude photographs but should knows the risks if these reach the wrong hands — it can be used to perpetuate bullying, emotional abuse, revenge porn, harassment. It can lead to embarrassment, low self-esteem, depression and even greater risk to suicidality.
(Editor's note: If you or anyone you know feels distressed, please reach out to a trained professional for help. Some helplines are listed here)
It is crucial we help our teenagers learn to say no and inculcate that people should respect them for that. Some helpful things to keep in mind: it is absolutely okay to say no, you don't have to make yourself uncomfortable, check with yourself if you know the person well enough and be aware of the risks of sexting. On the other hand, parents should also be told about sexting among teenagers and heathy conversations can take place regarding the same.
7. Keep lines of communication open and be aware of the downside of online dating. Experiencing unwelcome advances, sexually explicit pictures and general harassment via social media are an inevitable ugly experience as far as online romance goes. These shouldn't be hidden out of shame or embarrassment but should be disclosed to parents or caregivers who can take the required action to address the indecent behaviour. Protecting yourself is more important than anything else. Should you feel uncomfortable disclosing to a family caregiver, you can also reach out to organisations working for child protection and safety. 
8. Parents should encourage healthy conversations around sexaulity, relationships and safe versus unsafe practices in romantic relationships to help their children be well-informed before beginning relationships online. This will also create room for trust and safety between the child-parent giving more resilience and a boost to the child's self-image and confidence. 
9. Teenagers, trust your family and friends: they often remind you of who you are and what is good for you. Their filters can help you think through situations, and giving things a second thought isn't a bad idea. Understand what makes them ask you to stay away or not go ahead with a particular relationship; we learn about ourselves from people who are rooting for us. 
10. Be authentic and protect yourself and your interests. You don't have to push your boundaries just because someone is asking you to. It is okay to say no and take your own time to come around to whatever stage of a relationship you're at, as long as you are comfortable. Authenticity may help you screen who is and who is not a fit for you. 
11. Online relationships should not restrict you or cut you off from family and friends' time. It can be very alluring to exist online with your partner and live your lives with them but make sure you get enough of your Vitamin F&F (friends and family) which will help you maintain good health in relationships and keep connected with your inevitable sources of emotional support.
12. Try to narrow down your choices when you interact with people on online platforms. Too many choices can overwhelm you. It may also make you feel lost and confused. Ground yourself to the purpose of 'why' am I doing this and 'what' do I want out of this.
13. When and if you do decide to meet someone IRL, generally, prefer a public place. Let a friend or someone at home know exactly where you are going to be: this makes you more accessible in times of trouble.
And if you take only one piece of advice away from this checklist, it should be: Trust your gut!
The bottom line is that relationships are about good and not so good experiences. Take them as learning experiences; hold on to the good memories and let go of the not so good ones. Talking to people who know you and have your best interests at heart will help you get through some of the 'relationship baggage' which everyone has to deal with. Online relationships and communications help to get you started. Build the foundation, and as you move forward, make it real. And while not everyone has bad experiences on online dating, it's best to prioritise yourself, and, yes, make sure it's Safety first!
About the Author: Pragya Lodha is the Programme Director of Mental Health and a Clinical Psychologist at One Future Collective. One Future Collective is a feminist youth led not for profit nurturing radical kindness in people, communities and organisations.
ALSO READ: