Mental Health and the LGBTQ+ Community
By Devanik Saha
The Lalit Hospitality Group on Sunday organised a seminar on 'Understanding LGBTQ+ community from a mental health perspective. This was done in collaboration with the Indian Psychiatric Society and HealthCare Professionals for Queer India (HPQI), a collective which works to sensitise health care workers to the LGBTQ+ community's health care needs. So what are the Mental Health issues and concerns when it comes to the community? For starters, Sunday's conference covered topics like the necessity and perils of coming out, the battle against Section 377, stigma, and the challenge of battling common stereotypes and misconceptions.
The first seminar in this series was organised earlier this year in Mumbai. Speaking to the The Health Collective, Executive Director of The Lalit Group Keshav Suri said, "These seminars are just a start. I am focusing on hiring more LGBTQ people, especially trans people, in my hotel. Also, from a long term perspective, we are focusing on making our staff more aware of these issues. Furthermore we would like to work with corporates to address these challenges. We will be organising these seminars at each of our hotels across India."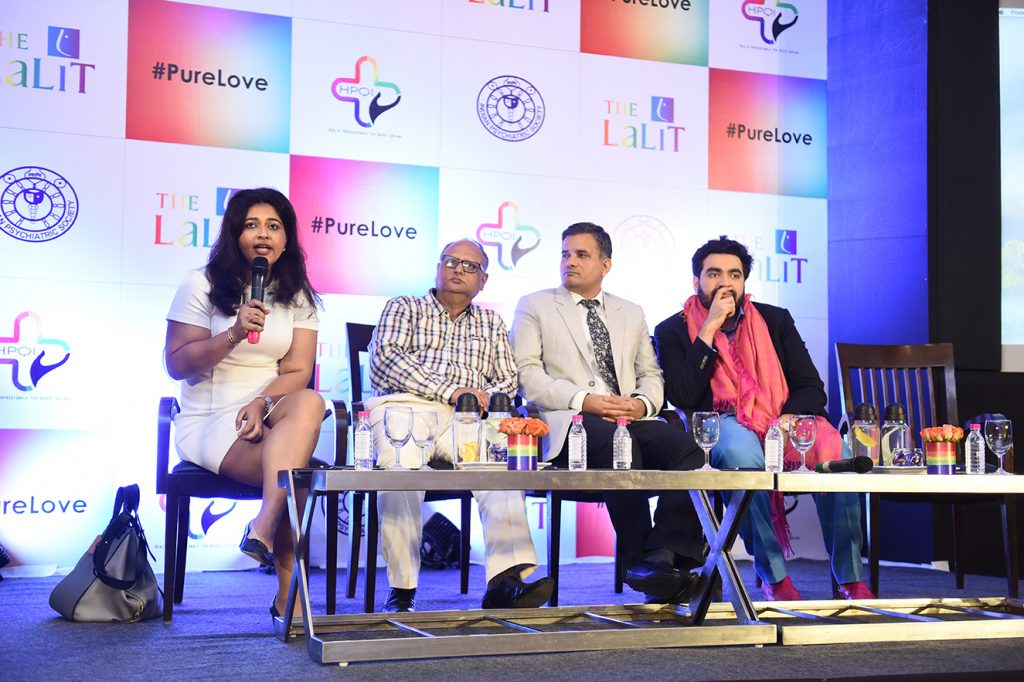 Outreach will prove key. Dr Prasad Raj Dandekar, Head – Radiation Oncology, Sir HN Reliance Foundation Hospital, who set up the HPQI earlier this year, tells The Health Collective that the group has so far been able to train 800 people.
Dr Dandekar led a session on issues faced by gay men married to women. He has interviewed 12 gay men who were married to women and faced severe personal trauma. Their major fears include not being a good father, fear of being found out by children, inability to keep up a double life, and mental and physical exhaustion from attempts at maintaining duality.
He would advise professional counselling for those being forced into this sort of situation,* and told the Health Collective that a few of the men he interviewed were getting counselling.
A special focus of the seminar was to dispel stereotypes and myths associated with the LGBTQ+ community. Dr Avinash De Sousa, a consultant psychiatrist and Research Officer (Sion Hospital, Mumbai), tackled myths like: Members of the community have multiple affairs, or are promiscuous, that those identifying as LGBTQ are "child abusers" or that they face no domestic violence. He also tackled the myth that bullying and crimes of violence against members of the LGBTQ+ community are low, or that suicide rates are lower than other communities.
"These myths are still prevalent not just within the psychiatric community, but the general population as well," Dr De Sousa told The Health Collective,  "A reason could be that these myths have been passed on from generations. Only those who are well-read on the subject and genuinely interested, are aware of the issues. Combating these myths are important as they feed into the notion that LGBTQ+ people are not normal and thereby, lead to discrimination and trauma. Therefore, in my session, I focused on what these myths are and how they are wrong scientifically."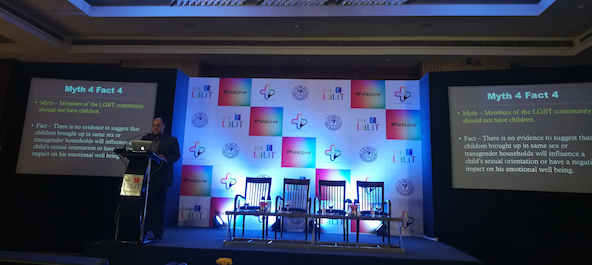 Another important issue discussed was the lack of focus on LGBTQ+ populations in medical education. Dr Dandekar elaborated to The Health Collective why this is important.  "When I did my medical education, there was no training on the introduction to LGBTQ+. Absolutely nothing. Therefore, we need to focus on training. We (HPQI) are in talks with few medical colleges in the country to see how these issues can be incorporated in medical education," he said.
"The training should include issues like What is homosexuality and LGBTQ? What are the different terminologies associated with these communities? It should strongly focus on how being a homosexual is completely scientific and normal and it is not any mental illness or disease. Additionally, there should be training on the mental, physical and sexual health of those belonging to these communities and how their identities affect their health," Dr  Dandekar added.
Bhuwan Kathuria, a Marketing Consultant and independent equal rights activist, told the Health Collective, "There is no denying the fact that it is paramount for mental health practitioners to engage with the LGBTQ+ community at large. This seminar by IPS touched upon multiple nuances of LGBTQ+ mental health issues by engaging with individuals who are the intersection of being queer and also mental health practitioners. (There is a) long way to go, but definitely a step in the right direction."
This reporter felt that a major issue which should have been discussed is the lack of sensitive policies in India. We spoke to Dr. Kersi Chavda, a Consultant Psychiatrist at the Hinduja Hospital and Sir HN Reliance Foundation Hospital, who led a session on depression and loneliness in LGBTQ+ populations. We asked him about the Mental Healthcare Act 2017 and whether there are any policy prescriptions for the Indian government.
"Not at this stage," Dr Chavda told the Health Collective. "Of course, there is a need for changing the policies, but at this point, I would say we should focus on educating the masses rather than pressing for a policy change altogether." 

(We had earlier reported that how support for mental health care needs of trans persons comes in from NGOs and civic society organisations, like the NAZ Foundation, Prothoma, Humsafar Trust, with minimal governmental support. For large scale intervention, action and impact, a national policy framework supported by on ground infrastructural changes and trained human resource personnel is of utmost necessity.)
Dr. Siddiqui argued that the lack of sex education (which includes information about LGTBQ+)  in schools is a problem, but it is critical to note that parents may oppose it as many of them believe that studying homosexuality may encourage homosexuality.
Keshav Suri, who recently married his French partner, told The Health Collective that he is committed to working for change here in India. Suri has recently joined the petition in the Supreme Court against Section 377, calling it unconstitutional, when applied to two consenting adults. "My husband's country (France) legally allows gay sex and men. I have the easy option of shifting to France, but I want to stay here, work here and make a change in my country," he told The Health Collective.
There is no substitute for action and engagement. "I perceive HPQI and IPS as very strong allies of the LGBTQ+ community and change agents for the larger medical fraternity. Apart from the proposed pedagogical changes, it would be heartwarming to see doctors and psychiatrists file a writ petition against Section 377 and join the fight of decriminalising homosexuality," said Kathuria.
Feature Image by rawpixel.com 
*This post has been amended on July 3 to provide context for Dr Dandekar's advice to those in similar situations to seek counselling.
Disclaimer: Views expressed are personal. The Health Collective is not and does not claim to be a substitute for expert advice from a trained mental health professional. For more information on who to reach out to for help for you or a loved one, a list we continue to build out is on our Contacts page.