Announcing: The India for Mental Health Fellowship
2020 is finally here… and with it, an exciting announcement!
Applications are now open for the first edition of the 'India for Mental Health Fellowship', brought to you by The Health Collective and India Spend.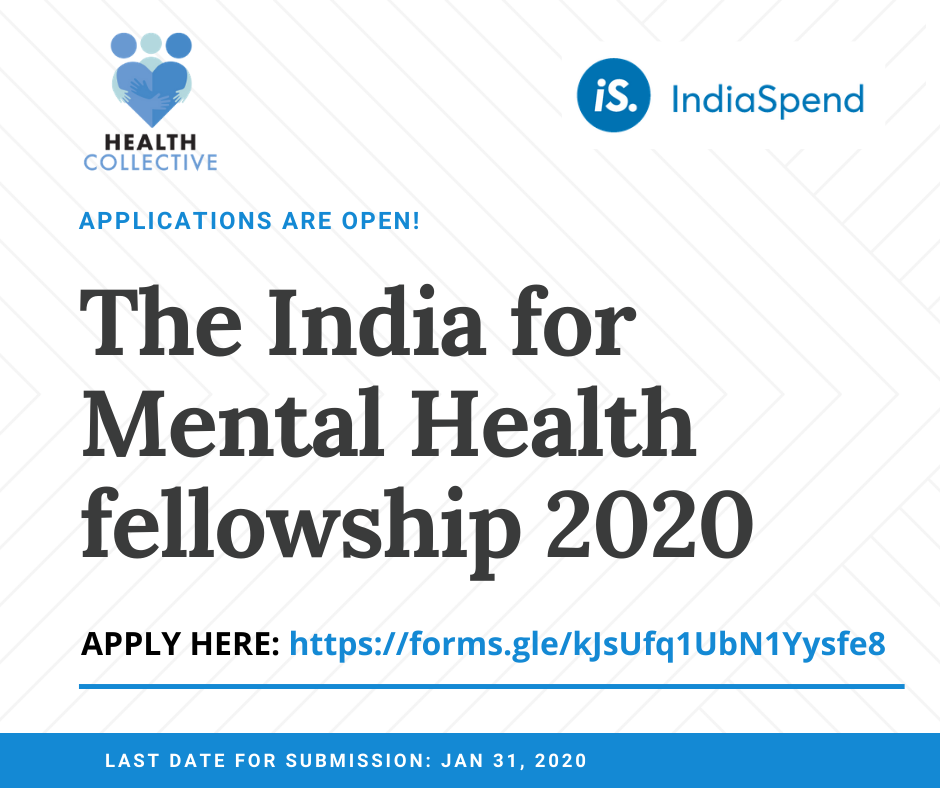 Find out more info here including on how to apply
The objective: Four reporting fellows will cover Mental Health and Mental Illness from an India lens. The fellowship will cover travel and research costs. The first edition of the fellowship aims to cover four regions of India, to encourage original reportage that highlights gaps in coverage or policy, with a focus on marginalised communities, while centering the narrative around persons with lived experience, and adhering to the highest ethical standards.
Reporters with multimedia experience, understanding of data journalism and familiarity with non-English languages are invited to apply.
Fellows would be responsible for research, interviews, finding case studies, and reporting–in an ethical manner. Stories would be published by IndiaSpend, The Health Collective, and a national news partner. IndiaSpend will share the stories with its syndicate partners, who may choose to republish them.
Themes for coverage include but are not restricted to:
– Suicide prevention in India
– The role of faith healers in treatment of mental illness in India
– Understanding schizophrenia
– Mental illness and insurance
Open to:
– Freelance reporters with 5-7 years of experience and above
– Reporters with multimedia experience and who send pitches for varied formats will be preferred
– Applicants must demonstrate an interest in reporting on mental health, policy and health issues
– Initial pitch must include references to data, interviews and studies that delve deep into some of the mental health and illness issues in India
– Familiarity with English plus Hindi and/or other regional languages is required
(Full-time reporters who are interested can reach out with their editors' approval)
Support:
Support from The Health Collective, IndiaSpend and subject matter experts could be arranged where requested/required.
Fellowship budgets (up to INR 75,000) would include:
– Reporter's payment
– Editorial/research expenses
– Travel costs
Pitches and reports would be featured on:
– IndiaSpend
– The Health Collective
– One national media publication/channel
Last date for applications: Jan 31, 2020.
Shortlisted applicants will be intimated via email.
Decisions would be final and at the sole discretion of IndiaSpend and The Health Collective.
Feature Photo by Alexander Andrews on Unsplash