Learning to Grieve with Joan Didion's The Year of Magical Thinking
By Arpita Das
Grief lives in the body, someone said. After my father's death I began to understand what that insightful set of words meant. At inopportune moments, especially in a closed room with several people, I would feel my chest contracting till I felt I had to fall back on the Lamaze breathing I had been taught when I was pregnant with my first child. My eyes would fill with water. In those days, I began noticing debilitating bouts of body ache, particularly pain in my shoulders, which would fill my being with lassitude. In the morning on many days, after the kids had left for school, and my partner for work, I would lie unmoving in bed, staring into space, aware that if I moved even a finger, it would be like a sharp stab deep in my gut, and I would not be able to staunch the wound on my own. There is a reason why my psychotherapist friends often ask in their sessions, when people are unable to put their feelings into words, 'Where did it hurt in your body'?
What also began to become clear to me at that time was that it wasn't just the pain of losing a loved one to death that had manifested itself in my body in this way. I remembered then lying in bed in a similar stupor on mornings during a particularly sordid time in my relationship with my partner. The day had barely begun, but my reserve of energy, which was meant to resuscitate itself with the night's sleep was not within reach. And any effort to seek it would bring with it the certain stab in the gut.
It is little surprise then that melancholia was the name given to this condition by the Greeks. Melancholia, which literally means 'black bile'. Hippocrates and other ancient Greeks considered it to be a 'physiological' condition caused by an imbalance in the four basic bodily liquids, or 'humours'. It was only in Elizabethan England that melancholia was first understood as something that could be caused by external forces, and experienced 'spiritually'. In his 1917 essay 'Mourning and Melancholia', Freud connected the dots between physiology and psyche as he wrote, 'Mourning and melancholia involves grave departures from the normal attitude to life…'. He noted further about melancholia, 'It never occurs to us to regard it as a pathological condition and to refer it to medical treatment.'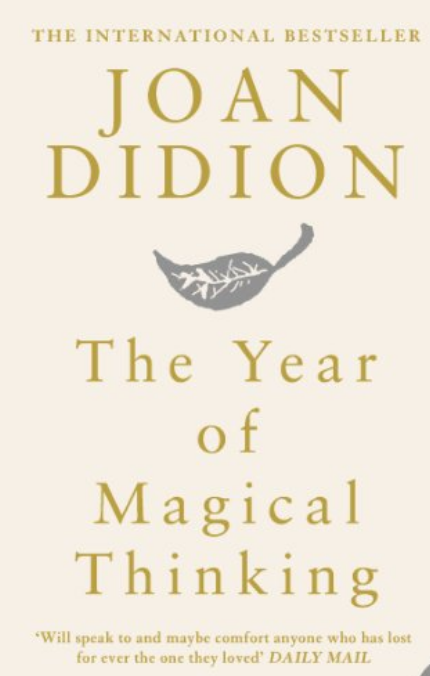 Indeed, the experience of grief as an illness and its physiological manifestation has been written about with great finesse by many savants, psychologists and writers over the centuries, but perhaps none more so than the great Joan Didion herself, in that monumental treatise on living through this uniquely unbearable yet inevitable human condition, The Year of Magical Thinking. She writes early on in the book:
"Grief is different. Grief has no distance. Grief comes in waves, apprehensions that weaken the knees and blind the eyes and obliterate the dailiness of life. Virtually everyone who has ever experienced grief mentions this phenomenon of 'waves'."
She quotes Eric Lindemann, who was chief of psychiatry at Massachusetts General Hospital in the 1940s:
"…sensations of somatic distress occurring in waves lasting from twenty minutes to an hour at a time, a feeling of tightness in the throat, choking with shortness of breath, need for sighing, and an empty feeling in the abdomen, lack of muscular power, and an intense subjective distress described as tension or mental pain."
Didion follows this up with her own experience:
"Tightness in the throat. Choking, need for sighing. Such waves began for me on the morning of December 31, 2003, seven or eight hours after the fact, when I woke alone in the apartment. I do not remember crying the night before."
And later, in an uncannily exact approximation of my own sense of torpor on those terrible mornings of my own, she writes,
"Until the morning. When, only half awake, I tried to think why I was alone in the bed. There was a leaden feeling. It was the same leaden feeling with which I woke on mornings after John and I had fought."
On the night of 30 December 2003, Didion lost her partner of nearly four decades, John Gregory Dunne, as he slumped over the dinner table and went into cardiac arrest. Dunne's own demise was possibly catalysed by the agony over their daughter's hospitalisation after the young woman, who had just been married five months ago, went into septic shock following a sudden pneumonia infection. Her doctors had taken the decision to put her in an induced coma. In The Year of Magical Thinking, written over a year following Dunne's death, Didion takes us through the many stages of her grief and mourning and her experience of the 'void' left behind by her husband's unendurable 'absence', even as she combats the dread of losing her daughter to the latter's own medical crisis. For those who are not familiar with Didion's work, she ultimately loses her daughter and writes of this in another breath-taking ode to love and loss, Blue Nights.
The Year of Magical Thinking struck me as a strange title for a book on bereavement when I bought it at my local bookstore in my own period of grieving. The title could not have been more apt, however. The 'magical' thinking Didion describes with such brutal and splendid honesty entails her hope that her partner would return, that if she did a series of things 'right', he would come back to her. Those who have grieved and mourned will identify with this phase of the affliction: believing that it will all become all right if one were to do it differently, and the disbelief and frustration that follow afterwards. But the book focuses almost equally on rendering a reassuringly accurate depiction of how grief and the resulting melancholia make their home in certain corporeal nooks and crannies. Didion reports what she read in psychological observations of people who were experiencing grief, like herself:
"They forgot to breathe. They grew faint from lowered oxygen, they clogged their sinuses with unshed tears and ended up in otolaryngologists' offices with obscure ear infections."
Then,
"like many other stressors, grief frequently leads to changes in the endocrine, immune, autonomic nervous, cardiovascular systems; all of these are fundamentally influenced by brain function and neurotransmitters."
And in another incandescent evocation of how the grieving person's vulnerability literally shines out of their eyes,
"People who have recently lost someone have a certain look, recognizable maybe only to those who have seen that look on their own faces. I have noticed it on my face and I notice it now on others. The look is one of extreme vulnerability, nakedness, openness. It is the look of someone who walks from the ophthalmologist's office into the bright daylight with dilated eyes, or of someone who wears glasses and is suddenly made to take them off."
And perhaps the most profound description of that void deep in the gut:
"the unending absence that follows, the void, the very opposite of meaning, the relentless succession of moments during which we will confront the experience of meaninglessness itself."
What cuts to the heart of the matter, and the reader, like in my case, is perhaps the fact that Didion uses few adjectives and allows the scrupulous narration of events and thoughts and feelings, sometimes visual, sometimes of the spirit, other times magical, do the talking. Those who are familiar with Didion's masterly oeuvre naturally know what I am referring to, but even if you are reading Didion for the first time with this book, even if you have sought it out because it is grieving that you want to get a handle on, be assured that you are in good hands. Because Didion would not allow herself to be mawkish even if she wrote in her sleep; her prose glitters with truth and power, and the famous Didion wit appears regularly, even as she never loses eye contact with you and keeps hold of your hand as she tells you how goddamn agonising it all was. For me, reading the book meant not just validation and the feeling that I was not alone in experiencing this affliction, but what Didion writes herself: 'Read, learn, work it up,  go to the literature. Information is control.' It allowed me to watch a writer I had venerated since my college years live from day to day even as her life and mind are clouded with grief. Ultimately, it gave me permission to grieve in my own way.
Disclaimer: Views expressed are personal
About the Author: Arpita Das runs the award-winning indie publishing house, Yoda Press. She conducts writing, editing and publishing workshops regularly under the Yoda Press Workshops Series and writes for various platforms and periodicals on book culture, publishing, bibliotherapy, gender and popular culture. You can find her on: Twitter @arpitayodapress | Insta  | Linkedin
Feature Image by Ralf Skirr on Unsplash