ACJ Student Pritha Mallick reached out to us with some questions around Mental Health and #MeToo. Here are some edited excerpts of an interview with psychologist and Health Collective contributor, Kamna Chhibber.
1. One of the first reaction to women's account on sexual harassment and assault in social media spaces is the prevailing tendency to doubt the survivors. Since the response is triggering, what do you think draws people to the movement despite knowing the consequences?
Current times abound with restlessness. We see questions being raised at existing systems, comparisons being made to other systems which is driving a strong need for change. Simultaneously there is growing recognition that change won't happen without individuals getting involved and engaged. This is one factor motivating people to speak even if they feel threatened. Additionally, while there are people who express disbelief there are others who support and express empathy which creates the hope and will to continue engaging in the dialogue.
2. The large number of people responding with similar incidents make survivors feel that they can't escape from the trauma. How does this impact the mental health of the survivors? Does it help or make it worse?
Both outcomes are a possibility. It can make an individual feel helpless and hopeless or feel hopeful that they can speak about it and be accepted, that it is not about them and who they are but about who inflicted the situation upon them. People can experience an existential crisis, questioning people and society and develop symptoms of mental health illnesses like depression or anxiety which can also be triggered by the vicarious re-experiencing of their trauma.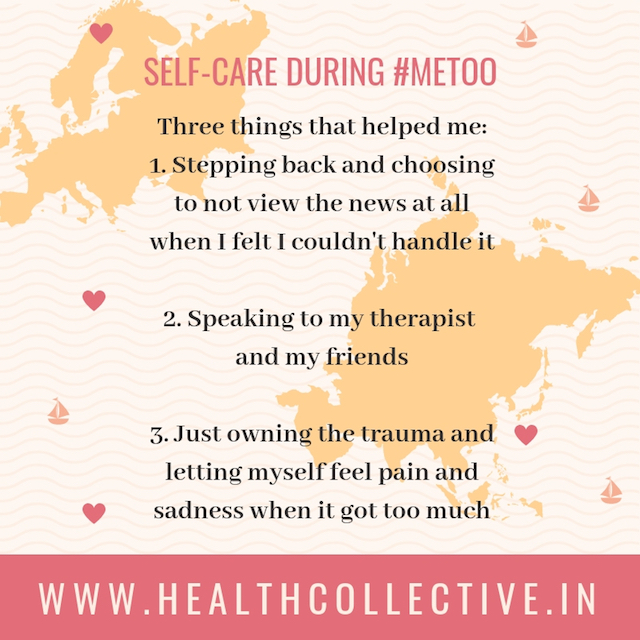 3. In India, the people who speak up do not have equal access to treatments because of the prevailing lack of mental health institutions, awareness and stigma associated with it. Do you think that the #metoo movement can break barriers and be inclusive in its reach and approach? How?
For any approach to be inclusive it needs to reach the masses. For that the medium of discourse and the language (including vocabulary) in which it is spoken of needs to be one that reaches the masses as well which needs to be considered.
4. What stops the survivors from reporting the incident, and what are the various psychological effects?
Talking about a difficult experience is always challenging and it becomes more so when it also disrupts beliefs about one's self, agency and sense of control over life. Most individuals have a core belief or hopefulness that nothing bad will happen to me, which may be supported by one's spirituality, religion or belief that I do no wrong or harm to another. So an incident like this raises questions at these multiple levels. Since an individual finds it difficult to process and accept it themselves, sharing it with another can be a problem. We also carry in our minds ideas about how we think people and society will react which also shape our behaviour. If we believe we have a solid support system which is unconditional in its approach we find it easier to talk about things. Anything that we hide within us can create psychological problems, affect our thinking, expectations, responses and behaviours. It affects the work we do and the moods we experience. People can have persistent flashbacks, and some can find it difficult to eat or sleep or follow their daily routine.
5. What are your recommendation/reminders/guidelines for the survivors so that they can lead a healthy life after revisiting the trauma? Do you think trigger warnings help?
An individual needs to be aware of where they are at in terms of their own coping and processing of their personal experience. If you have worked through the emotions and impact of your own experience it can be easier to process that of another and it may leave the person with minimal impact. Providing trigger warnings is a must that allows a person to feel a sense of control over what they are exposing themselves to. Providing or listing resources or ways in which a person  can take care of themselves in case it does trigger something for them is also advisable.
About the interviewer: Pritha Mallick is a former Peer Educator for YP Foundation and is a Sexual, Reproductory and Health Rights activist. She is currently a consultant for Beyond Eye organisation and is pursuing her Post Graduate degree in Journalism from the Asian College of Journalism, Chennai.
Editor's Note: If you are feeling re-triggered, or traumatised, please do reach out to a trusted mental health expert for professional help. We have shared a list of resources, including the crowd-sourced list via iCall here
Material on The Health Collective cannot substitute for expert advice from a trained professional. If you would like to share your story, do write to us here or tweet us @healthcollectif
Feature Image: Photo by Uros Jovicic on Unsplash