RebootWellness
is a Gurgaon-based venture which aims to provide easy and affordable mental healthcare. Devanik Saha interviews Monika Chowdhry to find more about their approach to mental healthcare, and some of the larger problems they are trying to address. Read edited excerpts of the interview below.
Can you tell us more about Reboot Wellness? Who started it and what does it aim to achieve?
Reboot aims to provide easy and accessible mental healthcare to everyone. We have a unique approach where we have a range of interventions — support groups, personalised counselling, fun activities, and a cafe — to support mental illness survivors. Our centre was launched in July 2017 by Saloni Malhotra, Ashwani and Sarita Anand. Ashwani had a 32 year sailing career with 16 years as a captain of oil tanker ships, while Sarita has worked for over 15 years in the field of de-addiction and recovery in Singapore.  Malhotra, 37, and the youngest of the three, was the founder of DesiCrew, a rural business process outsourcing firm, and former vice president at PayTM, a job she quit to co-found Reboot Wellness.
From a broader perspective, what is the larger gap that Reboot Wellness is trying to address in the mental health sector?
If you are suffering from a major physical ailment, you know who to go or where to go. In the context of mental health, that's not the case. Thus, Reboot aims to tackle the problem of ensuring affordable and accessible mental healthcare treatment. (For example) If asked randomly, how many mental health treatment centres can you count in Delhi and NCR?)
Additionally, there is a lot of stigmatisation around mental health in India. In a hospital, there is no concept of anonymity as everyone can see when you are entering the psychiatric department, and thus, you can labelled 'mad'. Reboot is designed as a place where interventions are used to make people comfortable and feel at ease, and where they do not have to worry about stigmas.
What are the types of cases that usually come to Reboot Wellness for support?  
People come to us come for issues like relationship issues, sleep disorders, stress, anxiety, depression and acute mental health illnesses. However, around 90% of these cases are usually linked to alcoholism and addiction. In addition, families of survivors also seek support and counselling, the primary reason being unable to tackle the guilt and shame associated with being the family of an alcoholic.
What are the interventions that Reboot Wellness offers to help survivors?
The Hangout Cafe is our major offering which has attracted many customers. It is  akin to a co-working space for everyone who want to seek support for themselves. The cafe offers monthly membership of Rs 5,000 where you can sit, chat with people suffering from similar illnesses, and talk to psychologists and psychiatrists, and seek their guidance. Being in the cafe gives you the feeling of belonging to a social community who are there for each other.
In our Hangout Cafe, we organise book readings, community lunches, meet and greets, and international movie nights. (On movie nights, we usually show a movie which is related to a mental health issue and often helps people to accept their mental state. For e.g.: If you know a friend needs help, you can bring them to the movie night to help them understand their situation better and maybe that could convince them to seek help.)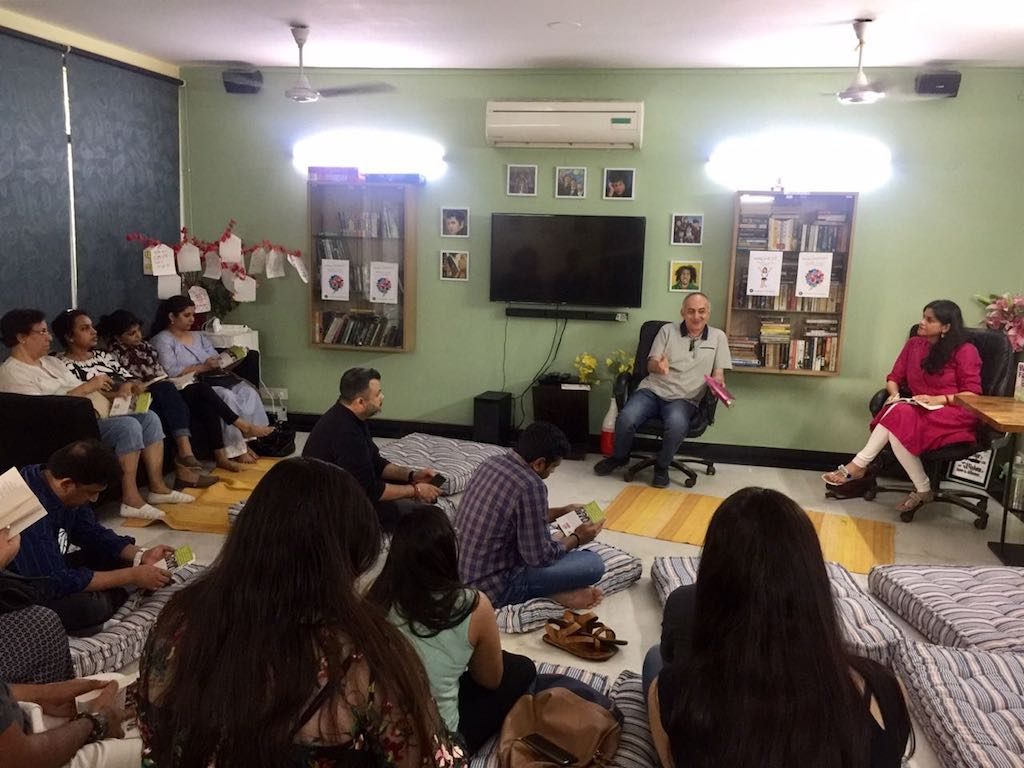 In addition to the Hangout Cafe, we offer other services such as personal counselling where we charge upto Rs 2,000 per hour for senior and experienced psychologists, and anywhere between Rs 1,200- Rs 1,500 for junior psychologists and psychiatrists.
Though these charges are at par with those charged usually, what are your plans to make mental healthcare more accessible for the youth or those who cannot afford these rates?
We have got feedback from students on this issue. For those who find our consultation charges high, we recommend that the person should have their first session in-person and then subsequent sessions online, which (are) cheaper.
Alternatively, you could take the Hangout Cafe membership, be a part of support groups, and seek the support of peers for addressing your personal challenges. For instance, there is a particular case of a boy who was recovering from drug addiction and unfortunately, he lost his job after his employer got to know. He sought help from us, and one counsellor suggested he spend time at the cafe. The support groups helped him feel better, apply for jobs, build his CV and eventually, he got a job through someone at the cafe!
ALSO SEE: CONTACTS AND HELPLINES          
 What are the future plans for Reboot Wellness? Is the centre financially sustainable?
We started in July 2017, and our goal is to have 100 centres in the future. We have been able to generate sufficient revenue to sustain ourselves. Additionally, the government is becoming increasingly friendly towards mental health, general awareness about mental health is rising, and recent cases of suicides and depression have raised alarm bells. Therefore, we believe that there is definitely a huge demand for affordable and quality mental healthcare services.
You can connect directly with the team at Reboot here
Disclaimer: Views expressed are personal. The Health Collective cannot substitute for expert advice from a trained professional.
Feature Image: Photo by Kelly Sikkema on Unsplash