Grief is not Linear: Cumulative Grief Even More Complex
By Sartaj Singh
I stepped out of my house for the first time in 36 days to buy some new notebooks. I got one with a pink hard top, a blue hard top and 2 packs of ball pens with a click mechanism. It was indeed an essential item for me to step out during the nowhere-close-to-settled pandemic situation. Every other notebook I had was filled during the lockdown owing to a daily routine of writing down my fears and resentments. It was suggested as a measure to regulate my emotions. I'd say that it's working, but I'd also like to speak about my inner chaos to the world. Back home, I remove the plastic wrap from the pink diary, grab a new pen and begin to pen down my current fears. I realise that this simple act of buying a new notebook made me feel like something I've not experienced in the last two years — calmness, a state of being free from agitation.
Most of the time, my mind will suddenly begin to get anxious about what lies ahead and I'll start biting my already ruptured finger nails. They tell on the innumerable nights I've been a nervous wreck, hours I've spent in dysregulation since the year 2019. That year, I lost my father, mother, and got the news of my only sibling's cancer diagnosis. It felt like playing an unfeatured cameo in the Avengers movie, where Thanos had just removed my family from the face of the earth by snapping his fingers. It's not that life was easy before this, but I did have people around me to provide a sense of security and belongingness. Well, I'm yet to grieve for these personal losses as they seem too heavy for my heart to handle. I became an expert in running away from any uncomfortable thoughts by smoking, staring at the smartphone, eating and so on.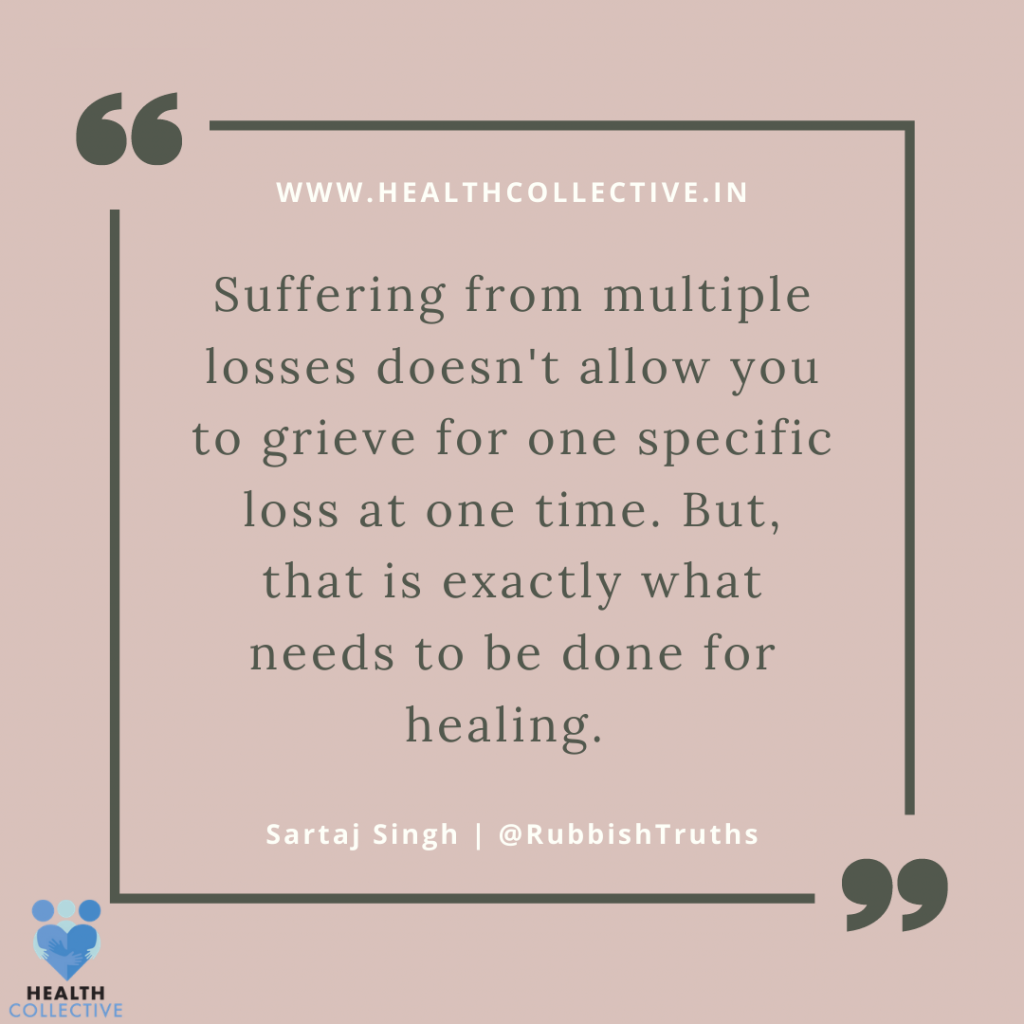 Last year, with the onset of the pandemic, all my distractive outings came to a halt. I needed the tools and support to deal with my basket of grief. There was no choice but to sit and process it. While reading about grief and healing, I was introduced to something called cumulative grief. It refers to a situation when a person experiences multiple losses in a short period of time. It came as a big relief to know that my extreme dysregulation episodes are reasonable and I realised (just) why more general grief support resources couldn't provide me with any relief. Suffering from multiple losses doesn't allow you to grieve for one specific loss at one time. But, that is exactly what needs to be done for healing. Whenever we feel ready to do this, we must write down all the things that we've lost. Since, the bereaved stay inside their brain and tend to become isolated with time, writing allows our brains to get a reasonable perspective on the gravity of the losses. It could be anything — loss of ambition, sense of security, comfort or financial support. This needs to be done without judgement of the validity of the loss. If you feel like you lost it, you probably did. 
Here's what my Loss List looked like: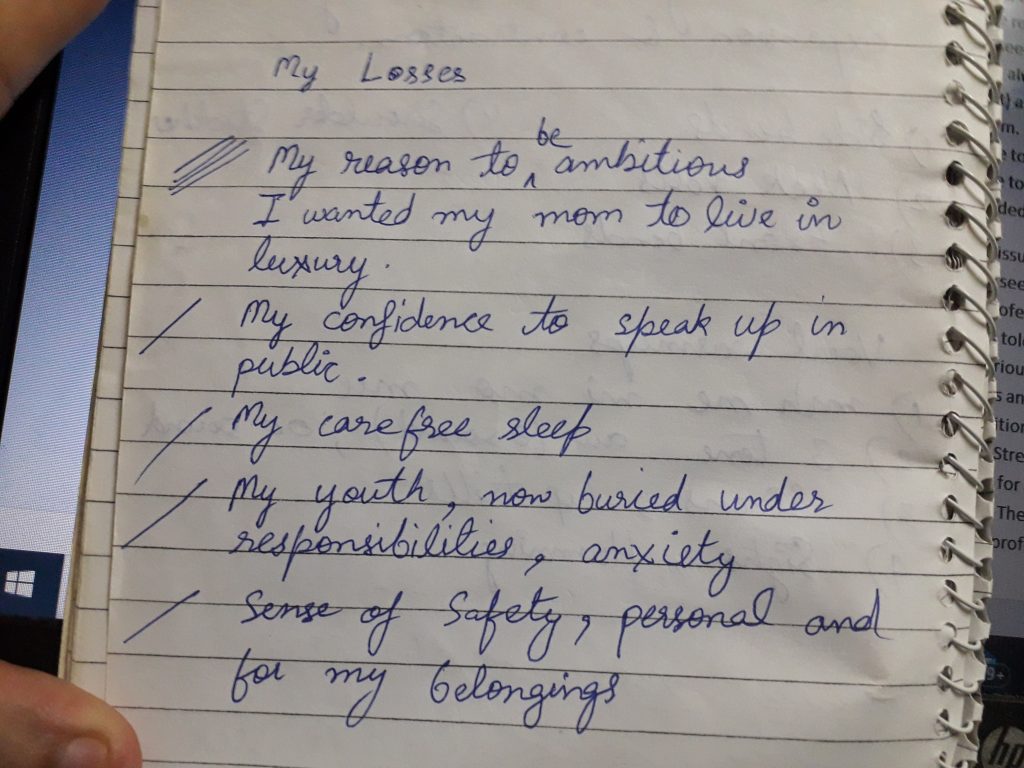 The list continued for two pages before the notebook ran out of any blank pages. My other troubles were increased anxiety and stress.
My parent's death was a reminder of mortality for me. Death is an inevitable truth that we humans sort of hide inside a latched trunk and push it into a dark alley until we grow old enough to open it. This avoidance has allowed us for centuries to have ambitions, make mistakes and basically live life freely. I witnessed the opening of this trunk while I was still young. It snatched away my motivation to excel in my career, to maintain a healthy lifestyle, or (even) go out for excursions. I did begin to monitor my food sources, but that was out of fear. I had all the reasons to be worried about being diagnosed with cancer sometime in the future. I could see my stress growing to the point of persistent tightness in the chest and clenched muscles. I've always heard that meditation helps us in being mindful (coming back to the present moment) and (to) obtain peace of mind.  So I decided to give it a try and started practising its gratitude form. I'd meditate for 10 minutes in the morning expressing my gratitude for everything I have today — my students (as they support my income), my sister for being there, to be able to breathe with ease and so on. It would instill a sense of positivity which I desperately needed to move away from the prolonged isolation.
Since I've been reading about mental health issues and healing journeys of people for quite some time now, I've understood the crucial role that seeking medical help plays in recovery.
While sharing her thoughts on how grief management is offered by professionals, Dr. Manpreet Deepak Khemka, a child psychiatrist working in Indiana, U.S. told The Health Collective that working with grief may involve a team of professionals that take account of various aspects of loss. Her role as part of the team would be to assess the patient's ego strengths and support systems available to them.  "Sometimes a patient's response to traditional grief counselling is inadequate due to underlying comorbidities like Post Traumatic Stress Disorder or clinical depression. In that case, (the) treatment of these aspects first is crucial for any grief therapy to work," she said, "Sometimes a patient comes to see me for trauma, anxiety, failure to thrive and in my evaluation unresolved grief surfaces…then I consult a therapist to ensure the grief management is initiated. So referrals can be both ways." 
Anyone who's experiencing cumulative grief can reach out to Therapists and social workers (LSCW) who have experience in grief management. Nowadays, professionals mention their areas of expertise on their websites . An initiative called the Sukh – Dukh Helpline provides tele-counselling for grief in 8 different languages. I called them up and was connected with the counsellor in under 2 minutes. Another similar initiative for children affected during COVID-19 Pandemic called SAMVEDNA, was launched in May 2021 by the Ministry of Women and Child Development. Their toll-free helpline numbers are mentioned below:
Sukh-Dukh Helpline : 7594 0526 05 (Timings 1:30pm – 6:30 pm, Monday to Saturday)
SAMVEDNA : 1800-121-2830 (Timings 10:00am – 1:00 pm and 3:00pm – 8:00 pm, Monday to Saturday)
Healing is not linear, it happens in a haphazard manner. On a particular day we might feel that we've recovered from everything and the next day, we might be lacking the motivation to even get out of bed. It's a complex thing to deal with and we deserve all the support that's needed to work through it. 
About the Author:
Sartaj Singh is a Writer/Musician from Delhi. He aspires to share his healing journey, to ensure that the online content for self-help is evergrowing. See his work at https://therubbishtruths.com/ and find him on Twitter @RubbishTruths