AI reveals India's Mental Health Concerns: Quilt.AI shares its findings
The Singapore-based Quilt.AI shared a study they have done on what Indians are searching for and about when it comes to Mental Health and the results make for interesting reading. You'll find more on their study on their site here. Read our e-interview with Dr Angad Chowdhry, co-founder and chief of product at Quilt.AI.
What led you to do this study?
Quilt.AI's founders, Angad Chowdhry and Anurag Banerjee, have always been passionate about mental health and channelled it into multiple side projects, such as using AI to detect suicidal tendencies based on people's social media feed.
Along with their passion for mental health, the onset of COVID-19 shed light on the staggering mental health issues people were battling in the face of unemployment, anxiety, and lockdown among others. We saw these topics being widely discussed globally and in India last year. Since many of our cause-based projects on Sexual and reproductive health, nutrition, gender equality are focused on young people in India, we thought looking at mental health could add value across our existing research. We also understand that when it comes to taboo issues like mental health, people are more likely to use private mediums in seeking help – such as Google searches. Whether it's Googling for therapists close by or a community for support – we believed that our AI tools and anthropological lens could shed an empathetic but insightful look into the mental health crisis in India.
Can you share some of the findings you found most surprising or most interesting?

The most startling and distressing finding was the sheer volume and scale of the problem – 11 million yearly searches on anxiety; 267,000 help-seeking searches every month. There was a 52% growth in searches in a year and the most worrying was an 82% increase in search on suicide. This data signals a desperate call for help – imagine a person searching on 'how to manage anxiety' and receiving no immediate help or tips. We know many mental health experts and organisations such as yourselves are working hard to change this, but we need solutions at speed and scale. 

(Editor's Note: If you or anyone you know is feeling distressed or suicidal, please reach out to a professional for help. You can find some third-party helplines listed here)


Quantifying mental illness and understanding the user journey from diagnosis to seeking help has been fraught with challenges for organisations – for one, there is never enough and reliable data to assess exactly how prevalent mental illnesses are. We think using digital insights from Search and Social media platforms can help tremendously here. Our data tells us that many people are searching for signs & symptoms of mental health conditions. This stems from people's desire to define their distress and get to the root of their problems. This could be the first step a person takes before seeking any help. 

Other findings that would be relevant to practitioners are campaigns are summarised below: 

Many times, campaigns and mental health services reach out through broad messaging on mental health. However, it is important to understand what the most pressing issues are and target those specifically. For example, our research found that interpersonal relationships and school and career pressures were the most commonly searched topics related to mental health and outreach should be done focused on tackling these issues.
Search is a key intervention point – people rarely talk about suicide or their own challenges on mental health but they do search about it. Though some social media platforms are taking steps to provide or redirect people to resources; this redirection to resources should be available when people first start searching about suicide or mental health issues.  
While many seek help, more want to try to beat mental illness on their own. Even content most engaged with is one that encourages people to look inward. This reflects an urgent need to improve understanding of mental health issues and their treatments. 
Micro-influencers are effective brand ambassadors for addressing mental health. Ads work well to garner huge reach, but level of engagement is generally low and unsustained. On the other hand, local influencers are better able to engage people. Unlike ads, micro-influencers are intentional in starting their messaging with self-compassion and awareness to take their mental health seriously while ads focus only on awareness.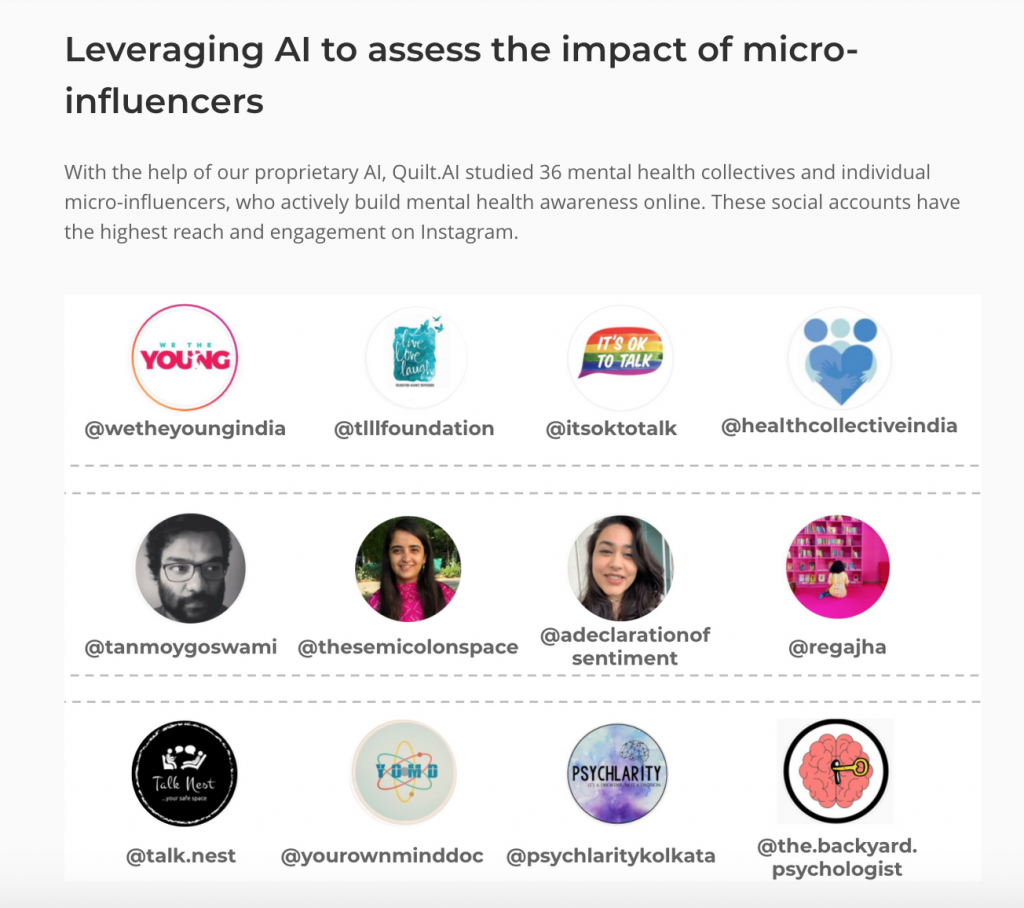 It's interesting to see the differences between public and private search when it comes to mental health in India. Any comments/ thoughts on what you've found here?

As mentioned above, search is an extremely important starting point for a person who is suffering from some symptoms and wants to diagnose or reach out for help. These searches reflect in-the-moment distress signals. We have further analysed search terms most often used to understand the root causes behind people's mental health challenges (for example,interpersonal relationships, school and career pressures). We also have insights on emotional and behavioural drivers behind people's searches – 'whats wrong with me?' connotes a desire to diagnose problems they are facing; searches for home relief signals a strong need to self-manage one's symptoms or keep it confidential.
We saw a skew in more females searching about mental health. This may speak to the fact that men are still hesitant about reaching out for mental health services due to stigma and societal expectations/gender norms. On public forums we found that there are more teenagers and youth who post but there are also young married couples/young working adults who engage frequently.
Can you share some info on the methodology?

To understand what people are searching for and posting on mental health, we extracted 100 unique posts from people seeking advice on an online forum for mental health concerns. Our AI model used Natural Language Processing (NLP) to analyse and cluster the text into themes based on the language and content of these posts. For private searches we compiled 200 search terms (e.g. 'therapists near me', 'coping with anxiety') around mental health conditions such as depression, anxiety, and bipolar disorder in the past 19 months (Jan 2019 to July 2020). We then analysed the trends in growth of each keywords and overall topics to understand what kind of searches grew the most.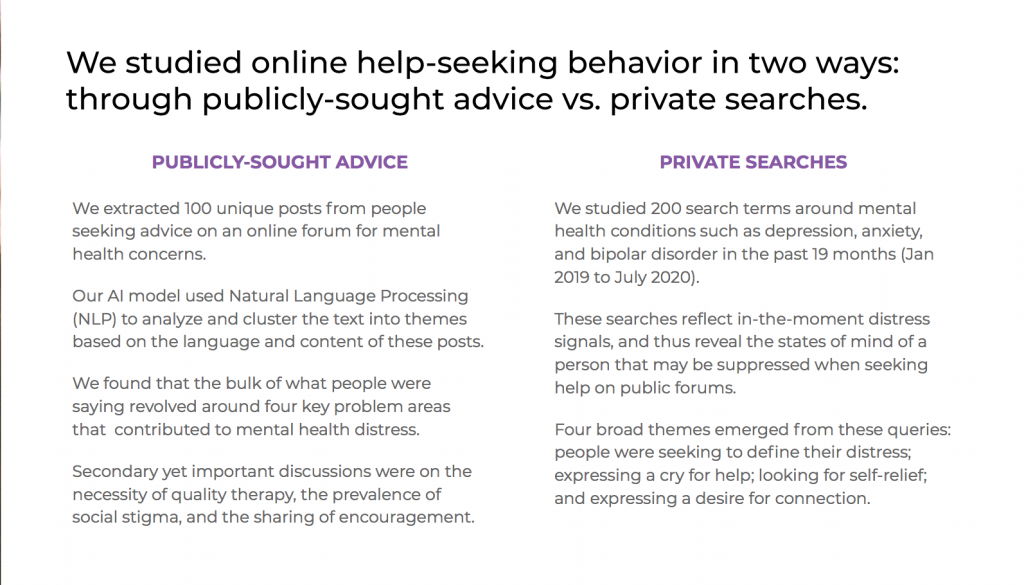 Disclaimer: Views expressed are personal
If you want to share your thoughts do feel free to write in to us (E: team[at]healthcollective[dot]in) or connect on social. Tweet us @healthcollectif or find us on Insta at Health Collective India