Covid-19 and You: Tunes for Troubled Times
By Ilina Acharya
The Covid-19 world has changed the topography of how we lead our lives. It has also triggered anxiety and affected our mental health. Uncertainty and the resulting stress can take over the mindscape. My oxygen mask for stress is music. It automatically soothes and calms me. Songs take you back to who you are, the various shades and experiences hidden within. I gather from them strength and a sense of identity.
Music is an integral part of my life as I am also a guitarist and musician. My instrument and playlists give me as much fun and joy — one after all 'plays' the guitar — as they also provide an avenue for venting and expression, solace and safety. Playing songs, or listening to them, also helps me stay in touch with my mind, my feelings and emotions, and a sense of self, when stress has the potential to momentarily obliterate it all.
An important aspect of managing my anxious thoughts and its subsequent symptoms and stress is getting to know myself, and the workings of my mind better. Music, like therapy, is a medium for that. It feels more 'real' or an external manifestation of something that is hard to nab; a bit like the coronavirus, the mind is a slippery creature. Music helps me 'map' my mind, understand the paths and routes of thought patterns and emotions, and invariably understand myself better.
Songs are able to sift through the dust of your existence. Like a philologist, it can see through your beginnings and trace the entirety of your life. Or like an archaeologist, decipher the life in your soul. A friend told me that we listen to songs but they listen to us too. They tend to the heart and soothe the mind, as well as give little hints, clues, and tiny lessons about coping, living life. Songs are also one of those sacred spaces where one is really, truly understood.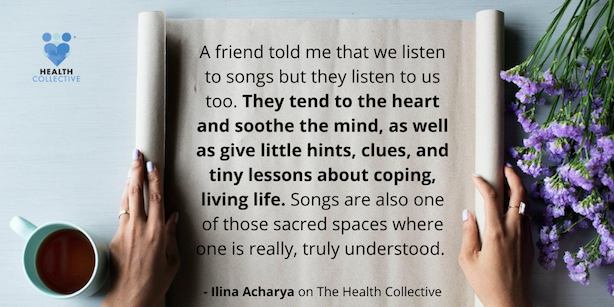 MY PERSONAL PLAYLIST
I wanted to share a small, personal playlist that has helped me cope in difficult times. The songs are primarily by Kashmiri artists, Alif and Parvaaz.
Alif, my 'ghamkhvar' (consoler) came to me at a difficult period at the end of last year. A period that in retrospect prepared me for this Covid-19 phase. Alif particularly helped me see love and hope, depth and beauty at a time I couldn't see for myself. Each of the songs goes on to do this in artistically different ways. Through Alif I also found Kashmir.
In The Lord of the Rings Gandalf the Wise says, "You are not without allies, even if you know them not." I feel like I found an ally in Kashmir and their endless struggles, in understanding and learning about them. Even the word 'struggle' is an understatement for Kashmiris. What follows is not only an attempt to map my mind through song but also an attempt to map Kashmir — not in a geographical sense (that is an open-ended, tricky terrain), but make visible their struggles — mental health as well as socio-political, just as it did for me.
But it is also worth noting that it is also a geographical uncertainty that is at the heart of its socio-political conditions and subsequent mental health. The mind, Kashmir, Covid, these are all difficult to map, but they have all one thing in common: the uncertainty of it. These songs I will mention helped me embrace that. Let the songs and poetry interpret themselves to you. But first, let's lay out some of that context for those who are unfamiliar.
MENTAL HEALTH

According to the Kashmir Mental Health Survey (2015) conducted by the medical humanitarian organization Médecins Sans Frontières (MSF), 45% of the adult population or 1.8 million adults in the Kashmir valley have significant symptoms of mental distress. To quote from the report, "… With 41% [1.6 million adults] exhibiting probable depression, 26% [I million adults] probable anxiety and 19% [771,000 adults] probable PTSD."
The MSF report includes that political and economic instability and uncertainty have an adverse impact on mental health, 'affecting the everyday life and livelihood of the population.' I feel a deep resonance in Kashmir: I sense the pain of their existence, the continuous suffering, wait and anxiety. But in Kashmir I also see determination, a keen sense of life and a will to life. I draw strength from Kashmir and their culture. To find an ally in something remote from one's reality reveals a shared humanity and that you are not alone. Our breaths can co-exist.
"When we talk about the mental health scenario in Kashmir it's more or less the same across genders given the militarisation and the traumatic experiences on an everyday basis. Women have it tough because they have to fight a two-faced monster: occupational militarisation as well as patriarchy in their daily lives. So obviously the stressors in their lives double up as opposed to men," social worker and co-author of 'Do You Remember Kunan-Poshpora?', Essar Batool tells The Health Collective. Batool is also a petitioner in the re-investigation of the Kunan-Poshpora mass rape case.
She adds, "The avenues for leisure and venting are very limited in Kashmir. The pandemic has ensured a total loss of mobility of women who now cannot even go out and socialise. And it would be really dishonest to not talk about what the Indian state has done under the Covid cover. So you see for Kashmiri women, it's about facing a pandemic, loss of mobility, violence from state and in homes, and a loss of identity viz a viz domicile changes. That puts a lot of burden on women especially at a time when mental health care services remain off limits."
Kashmir is subjected to layers of silence and the limited discourse on mental health is yet another thread tying into the silence of the traumas inflicted on the region and its people. It is now almost a full year since the abrogation of Article 370 and imposition of a lockdown on Kashmir. Covid-19 has added to the atmosphere of uncertainty and stress in the Valley living with a lockdown within a lockdown.
THE MUSIC
And yet, Kashmir also has some of the most powerful musical outfits I have heard.
'Azeez Dost Mohammad Muneem' – Alif | Letters To Myself
Alif is a Pune-based rock band singing in Urdu and Kashmiri, led by Kashmiri poet and musician Mohammed Muneem. Their songs 'celebrate darkness'. Alif's songs have a rare depth. This is to say that art and music has a healing touch and there is an unmatched potential in poetry.
Alif is the first letter of the Urdu alphabet, like the Hindi 'Ka'. When it feels like all else has failed there is but one truth: your expression and your voice, the sound of your pen on paper, poetry, the written word: the entirety of your world encapsulated in Alif. 'Everything is Alif'.
Dear grief, you come to me in ways I don't expect. No matter how many times I outrun you, you always find a way back. Often with thoughts like 'is all this hustle really worth it?' And often when doubt slips in. 'Does it even matter when someone else makes decisions for you?' You always find a way back.
Sure I look strong, but I too have a past and my future for a fact is what it shall be. My fears are real my vulnerability is true. It's hard to trust the future because of the past.
But oh grief when you come along you bring along with you "grieving". And in that I haven't failed. My people and my land have given me enough strength to hold on.
Grief if not grieved becomes a nasoor.
— As shared by Alif with The Health Collective
Malaal by Alif
It is in the following song that I first saw my emotions being validated, simply by seeing them being depicted. I also saw the story of Kashmir unfold in front of me; and so I saw myself in Kashmir and that gave me strength.
You can find Alif on Instagram @everythingisalif and the front man of the band Mohammad Muneem @mohammad.muneem; on Twitter: @Alifsmusic and @Mohammadmuneem
Colour White by Parvaaz
Parvaaz is another popular Kashmiri rock band based in Bangalore. This song feels like an ode to the recurring mantra 'this too shall pass'. The shades of the mind and heart are just as transient as my favourite time of day – dusk! 'Shamjaan' goes the chorus line aptly. It is beautiful to listen to with the setting sun.
sochna dil kabhi shaman zor hai  / at times the heart is almighty
sochna dil bezaar kyun  / and yet so helpless?
ho gaya phir bemaar kyun / how so sick again?
shamjaan / O beloved night!
(my revised translation)
4. Like a Sufi by MC Kash, Alif | 'India's First Sufi Rap'
While there is anxiety, there is also faith and poetry. Kashmir has had a confluence of cultures as well as an age-old Sufi tradition. This powerful track ties in that spirit of Kashmir.
BONUS TRACK
Bhrigu Sahni | Tanpura Jam Series
The Tanpura Jam Series is a weekly exercise in relaxation to draw oneself to the awareness of the present moment through music, by guitar virtuoso Bhrigu Sahni.
Bhrigu writes: 'I feel it necessary to record and share these sessions with you. Especially in these times, may it bring you the same feeling of peace and serenity that it brings to me. Note – This is best listened to at the start or towards the end of your day.'
Note: You can find details from the full report conducted by MSF in collaboration with Institute of Mental Health and Neursociences (Kashmir) and Kashmir University here.
Disclaimer: Views expressed are personal. Share your stories with us, if you like — Tweet @healthcollectif or mail us right here
Feature Image by RawPixel.com