Covid-19 and You: Managing Worries About Loved Ones
By Kamna Chhibber
Recent times have exposed all of us to extensive worries, not just about our own selves and the lives we lead, but also about those we love. For some of us who are lucky, those we worry about are right there with us in our very homes or somewhere nearby where we can check in with them.
There are far more of us, though, who are situated far away from our near and dear ones. You may be living away for work or perhaps you are married and settled in a different town or city. There could be various reasons, but the distances can be unnerving… In the last few days as I have been interacting with clients many questions have come to light. The wandering, restless minds of those I have spoken with have revealed questions like:
Will they be ok on their own?
I hope they are taking the precautions that are advised?
I wash and sanitise everything that comes into my home but how do I ensure they are doing the same?
I don't know if they are actually ensuring they have sufficient supplies
What if something happens to their health?
How will I get to them if there is an emergency?
I don't know if they have all their medicines. What if they aren't able to procure what they need?
I know they have friends around. But it's not the same. How I wish I could be there with them right now!
These and variants of these have come my way and we have been trying to navigate our way towards an understanding that allows us to feel less anxious. Here are some things which have helped others and may also benefit you.
Take active measures to do a check-in: Actively work towards being more engaged and set a frequency at which you would check in with your loved ones. Having a schedule around this too would help you feel and know with certainty what to expect.
Schedule activities that involve active engagement with those you feel worried about: Having more interactions that involve fun and activities, including things like having lunch or coffee together virtually are helpful at such a time. It allows you to have lighter moments with your loved ones which would enable you to feel relaxed and calm.
Help figure support structures in/ around their community: To feel relaxed yourself and to also support your family members who may be away from you, encourage them to determine their support systems close to where they are. Knowing who they can reach out to and where and how they can procure the things they need is important at such a time.
Help them determine activities that they can engage with on their own: A part of your worry would relate to how your family who is far away from you would be coping and managing their time. Work with them to help them determine their interests. Discuss activities that they can easily partake with in the home.
Request the elderly to do story/anecdote sessions with the younger members of the family: Utilise the wealth of information, experiences, anecdotes and ideas the elderly in your family possess. It would engage them and actively make them think what to share. Concurrently it will give the younger ones in the family an opportunity to know about things they are not aware of, take away important life lessons and values from these interactions.
Don't pass on your anxiety to them, focus on what you can control: Staying preoccupied with things that are not in your or your family's control will increase feelings of helplessness, worry and impact moods. Instead focus on what you can control by utilising the suggestions made above. This will ensure that you stay calm and don't transfer your worries to your family members.
Make sure you are taking care of yourself: If you are feeling well only then will you be able to be available to provide emotional and psychological support to your family. Make sure you are taking care of your mental health by structuring your own day, not excessively multi-tasking, getting in some time for your interests and hobbies and communicating with your friends and any other support systems about the stress you may be experiencing.
This is a challenging time for everyone and you are not alone in your struggle of caring for members of your family who are not living close to you. Talking to others and sharing your experiences with them will enable you to also reach novel solutions, through knowing what may be working for them. So don't hesitate to talk and seek support!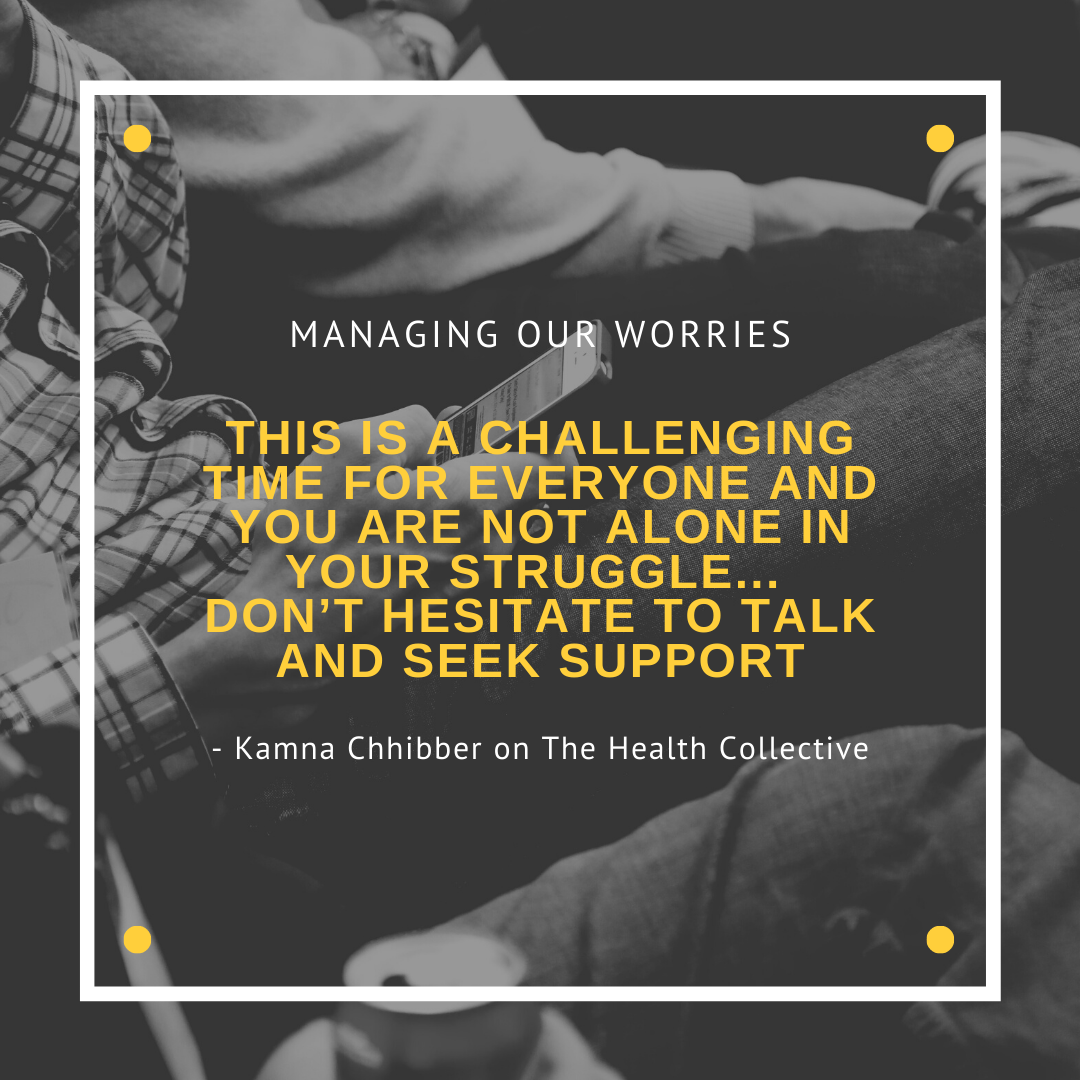 Also know that if your struggles are getting overwhelming, experts are available to support you through this difficult journey. You can reach them across virtual platforms and also call on helplines to speak with someone.
Disclaimer: Views expressed are personal
Feature Image by Raw Pixel
If you want to share your thoughts do feel free to write in to us (E: team[at]healthcollective[dot]in) or connect on social. Tweet us @healthcollectif or find us on Insta at Health Collective India