Understanding Therapy: What to Expect in Your First Session
By Kamna Chhibber
This is a matter of intrigue for most people who are interested in knowing about therapy or are considering taking therapy for themselves or others they know. The curiosity about what happens, what to expect, how to prep is immense. The thought about the first session can lead to intense anxiety. I have known people who have made copious notes about what they feel they need to share and navigated through numerous information portals to ensure they are prepped well enough for that dreaded first session.
Often when someone does come in for their first appointment they get surprised – either by the demeanour of the therapist, their approach or the fact that things turned out to be rather different from what they had prepped themselves for. They don't end up sharing what they had thought of and the conversation went in a direction that they did not even fathom.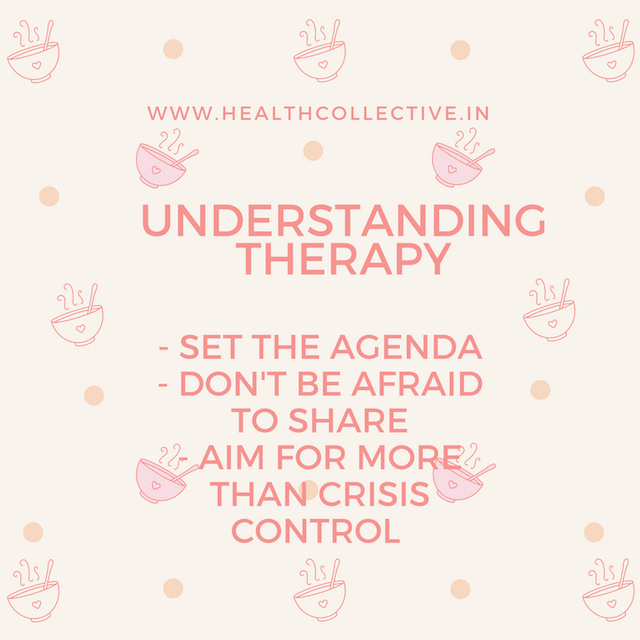 Here is a small indication of what you can expect when you are going to be going for your first session with a therapist.
They encourage speaking freely and frankly – The therapist does not have a prescribed list of questions that (s)he needs you to answer in any fixed sequence. They would prefer that you speak freely and frankly and go about narrating your experiences in a manner that comes to you naturally. The flow of the conversation can be any way that you are comfortable with.
They will ask you for additional information – You may feel like you are going on for too long and not giving the therapist the chance to speak. Bear in mind that any place they need some additional information from you they will find a way to place the question in front of you, even as you continue to charge ahead in sharing your narrative.
They need to situate you – The attempt of the therapist will be to find a way of situating you within the context of your current life. The past certainly informs much of therapy as does the direction you want to take in the future in terms of the goals you have personally and professionally. In the first session they are looking to understand the roots you have – your work, family, friends, routines, hobbies, interests. These act as a foundation piece upon which much of the conversation gets built over time as well.
You don't need to bare it all – The therapist does not have any compelling need to know about everything that has happened in your life. You can and must take your time to share your narratives, experiences, thoughts and emotions at a pace that you are comfortable with. You need to reach realizations and insights at a pace that works for you and so you must take your time to share what you would like in the manner that you would like to do so.
They will reach the diagnosis (if it is indicated) – You do not need to have the answers with you. The manner in which you would approach your physician with the symptoms you have been experiencing, you must approach a therapist with what is going on. They will ask you the questions they need to in order to determine a diagnosis and also help you with the right course of action that is indicated based on what has been going on. In case they need additional information which they believe a conversation or multiple conversations may not reveal, they will ask you to undergo a psychological assessment to be able to flesh out the details of your experiences and gain diagnostic clarification.
Therapy does not happen on Day 1 – The first appointment is meant to reach an understanding and to determine a path for the future. It will not give you concrete solutions (not that this is the aim of therapy as is) and it won't lead to any substantial changes on Day 1. You may feel relief and respite (catharsis) because you have been able to share what your experiences have been in a non-judgmental and unbiased space, without having to modulate your expressions and experiences. Anything that you get beyond that must be looked at as a bonus.
Check if you feel comfortable – The main purpose of this first interaction is for you to be able to determine how comfortable you feel with the person are you interacting with and whether their style of functioning is suitable for you. If you feel understood and the therapist appears to be someone who has a plan for you which they are able to share with you in some part you should look at doing a few more sessions to determine the effectiveness of the approach.
Despite all these aspects you may find yourself unsure and uncertain, feeling somewhat anxious and apprehensive about how things will be. It is important that in spite of these feelings, you take the steps to seek help and support if you have had the thought that you need to talk to someone in a frank manner. It does not indicate that there is a weakness or a problem with who you are. Seeking help and support requires courage as you are becoming to face aspects of yourself which are vulnerable and which can be uncomfortable for you.
Views expressed are personal. The Health Collective cannot substitute for expert advice from a trained mental health expert. Reach out for help: do check for resources available across India.
Share your stories: Write to us @healthcollectif
Feature Photo by Content Pixie on Unsplash