Wheelchair Cricket: Go Team India!
By Sukanya Sharma
It is double the celebration — India just won the Asia Cup, just over a week after Team India won the Wheelchair Cricket Asia cup. Here are excerpts of an interview with the coach of the team, Squadron Leader Abhai Pratap Singh (retd) and one of the players, Sunil Rao.
"It's very important for differently abled to make them believe that they have something more than their disability which can earn them bread and name and fame…" says Squadron Leader Abhai Pratap Singh Retd, Coach of the Wheelchair Cricket India team that just won the Wheelchair Cricket Asia Cup that took place in the UAE between 17-20th September 2018.
THE JOURNEY
Sqn Ldr Singh met with a road accident in 2007, which left him paralysed below the waist. In 2016, after years of training and adjusting to a new lifestyle, he met a few young people who were playing cricket from their wheelchairs, at a rehab program in Lucknow,. He was not impressed, at first.
"I was not too amused by the idea as I have played cricket earlier and could not imagine playing cricket without footwork, but curiosity took the better of me and I decided to play a game one of the Sunday afternoons," says Sqn Ldr Singh. But that Sunday afternoon changed the way he looked at wheelchair cricket. What he saw was more than enough to motivate him to work towards it. He tells The Health Collective, "I understood one thing — that it can be a game changer in the lives of wheelchair users. If the game can be adapted as per the abilities of weakest wheelchair user who can use both arms, the quality of life of millions can be changed. A cricket game of 3-4 hours can be a rehabilitation school for many. And since then there has been no looking back."
With cricket being next to a religion in our country, it's not a surprise — as Sqn Ldr Singh Retd points out — that the differently abled are ardent fans. And this team has only added fans and followers, wherever they have travelled.
One of the team players, Sunil Rao, raves about his love for the sport. He came to the Seva Niketan Rehabilitation Centre in Raipur for a vocational training course and has now been working at the centre for the past 18 years. A full time employee during the day, and a sports lover by the evening, Sunil's story is that of finding his way to a happy and fulfilling life. And that's in no small part thanks to a loving wife, and two kids who support his lifestyle, Rao tells us. "Unhi ke badolat…support ke wajah se hum aaj iss stage par aa chuke hai…"
Particularly poignant, as Rao himself was an orphan. Now very much part of a community, Rao has conducted trials and formed the Chhattisgarh Wheelchair Cricket Team with support from a local NGO. The team — led by Rao as captain — has participated in a National tournament. He takes inspiration from the kids that come to the centre for training, who aim to live an independent life. "Vocational training me bacho ko dekh ke hume prerna milta hai. Alag alag village se log aate hai independent banne ke liye, toh hum kyun na isme bhagidaari le? Unko dekh ke hum motivate ho jaate hai…"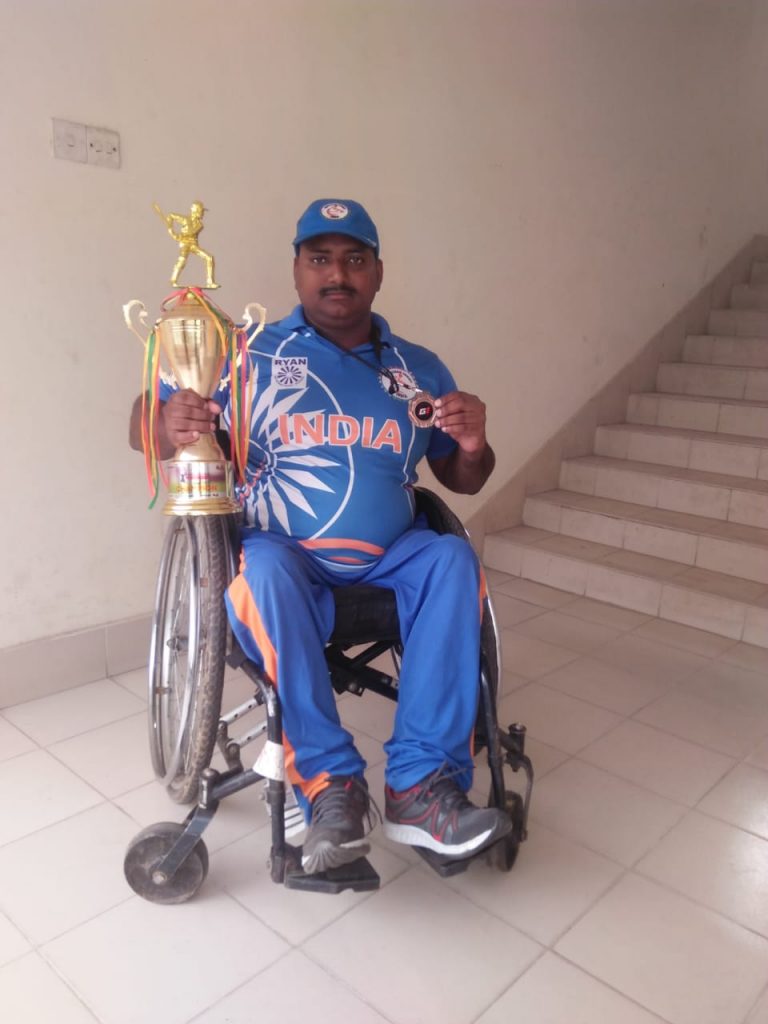 MILES TO GO
People with disabilities are often assumed to be at a disadvantage, but with increased awareness, programs conducted by government and some NGOs, there are many inspirational stories that catch our attention.
Sqn Ldr Singh adds that apart from these awareness programs, the most important thing is to enable the differently abled for life outside their homes. Accessible Environment is one of the thing which will make things better.
He adds: "Second is an early diagnosis of disability. Parents a lot of times resist the thought of their child being differently abled, which delays his/her acceptance in the society. Sensitising schools should be one thing which should be done on priority. Not discriminating against a child with disability unless required for security of other kids and teaching other kids about different disabilities and how to treat kids with disabilities will definitely do wonders…"
He believes "Seeing is Believing". When people see more differently abled people working amongst them, competing with them and so on, Singh believes society will automatically change their perception and attitude. Here are excerpts of a quick interview.
What motivates the team?
Appreciation, recognition, and definitely some money to continue playing well.
Can you tell us how important mental health is in this entire journey, because it's also easy to give up?
Mental health is the only thing which can keep you going in something like this. Lot of times it is very hard to make ourselves understand why are we doing this? There are times when we have felt used. People use our name and money for themselves. But the passion of players to keep playing cricket is what keeps us going. Mental strength is one thing which has brought us this far — otherwise there have been enough break-points.
Who has been helpful when the team has been depressed or anxious?
Other than cricket and teammates, it's the support of near and dear ones – family members, friends, which has always been helpful. Today we can proudly say that most of our players are mentally and physically strong enough to take care of themselves.
How do you think this can be a story of inspiration for others?
This can be a motivating story not only for differently abled but also for others. I am sure this will be a case study very soon in business schools. A group of differently abled (people) sitting on wheelchair passionate about playing cricket get together and form an association. We not only played cricket but went places. Within a short span of two years, (that includes) 6 inter-state series, a national tournament, an IPL type league tournament and two international series away from India and without any any permanent supporter or godfather. Isn't that motivating enough?
Disclaimer: Views expressed are personal.
Feature Image: Courtesy Squadron Leader Abhai Pratap Singh